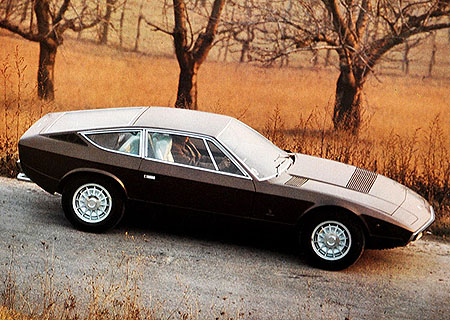 Maserati Khamsin
The Maserati Khamsin was introduced as a prototype in autumn 1972 at the Turin Motor Show, only a few weeks after the launch of the Merak. Intended as a replacement for the Ghibli, Maserati's Khamsin coupé. At the height of the "wedge shape" design era, the Khamsin was Turin design house Bertone's first official commission for Maserati. The production model was shown at the following Geneva motor show in March 1973. The design's clean lines were characterized by a waistline rising gently from the pointed nose to the truncated tail, and were enhanced by innovative details such as the taillights "floating" in a rear transparent panel (unfortunately they had to be modified on the US version to comply with Federal legislation).
The wind lending its name to the new 2+2 coupé was a hot North-African desert gale blowing in Egypt and Libya. The self-supporting body rested on an unchanged 2.55 meter wheelbase, however the rear suspension was entirely new with oscillating trapeziums and differential units mounted in a sub-frame, effectively reducing both noise and vibration. The variable steering assistance was shared with the Citroën SM, as were other high-pressure hydraulics applications: brakes, clutch, pop-up headlights and driver seat adjustment. The spare wheel was fitted behind a trap door underneath the front bumper. By the time Khamsin deliveries started in 1974 both the Ghibli and Mexico had been phased out. It remained in production until 1982, with the 4.9 liter dry-sump V8 from the Ghibli SS as the sole engine choice.
German magazine Motor Revue achieved 272.2 kph (170 mph) before the unit was detuned from 320 hp to 280 hp in 1979, after which the top speed stood at 250 kph (156mph). One of the 435 cars assembled was delivered to Luciano Benetton in 1981. A subtle restyle added a small three-slot grille at the front in 1977.