When the BOOST BLOWS
Lotus Turbo Esprit HC Road Test

Click on image to enlarge
Fast Lane - June 1987
The latest Lotus Esprit turbo has an HC badge. It stands for higher compression, and it allows the plastic fantastic to sneak ahead of the Ferrari 328 and Porsche 944 turbo in the drag race. It's still not perfect, but arguably it's the most exciting road Lotus to date.
A COLLEAGUE who worked at a very well known car emporium was once under strict instructions never to buy any Lotus with more than 13,000 miles on the clock. Lotus ownership then was best likened to Ayrton Senna's last Grand Prix season in a car of the same name. Always elegant, easily amongst the best handling cars on the circuit, when it was working, Senna's abundant talent assured that the combination was all but untouchable. The Lotus did, however, break down a lot. Bits tended to fall off, and this is the very simple reason why Senna wanted a second string team mate. He wasn't afraid of being blown off, he just wanted to give his team a chance to prepare the number one car properly. He got his way, and those close to the team say that the bits will have lock washers on them this year.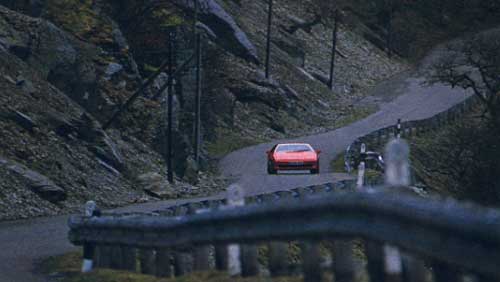 For Lotus's road cars, the metamorphosis may well have already happened. The subject of this test had over 6,000 miles on the clock; there was nary a squeak or rattle audible above the wind noise, and nothing broke - not even on the trim, so things are definitely looking up. Neither is the Esprit turbo expensive nowadays, given that you are daft enough to spend £25,000 on something made of plastic that barely seats two with room for their respective toothbrushes. The current Esprit turbo price tag easily undercuts those of the Ferrari 328 and the Porsche 944 Turbo, and does so by no less than £14,000 and £9,000 respectively. Furthermore, the Lotus is now quicker than either of these on everything but outright top speed.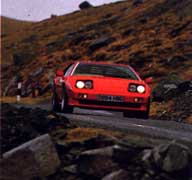 In its latest HC (high compression) incarnation, the turbo Esprit boasts a number of small detail improvements over its predecessor, mainly to the long-serving, slant four 16 valve engine. Compression ratio goes up from 7.5 to 8.0:1, turbo boost rises by 1.5lb to 9.5psi max, and there is a smaller exhaust turbine and housing to reduce inertia and help the turbo spin up more quickly, which reduces lag. The modified Garrett blows through larger 45mm choke (instead of 40mm) Dellorto carburettors which are specially sealed to prevent the boost blowing fuel out of any holes. There are also changes to the inlet ports on the cylinder head and to the exhaust manifold, and a host of detail alterations elsewhere on the engine helps it dissipate the attendant heat that boost develops in large quantities. On paper the improvements add up to just five extra horse-power, now 215 from 2,174cc, but bring a more useful additional 20 lb ft of torque, up to 220 and still peaking at 4,250 rpm. The gains might well be small, but then they aren't adding to the price of the car, which stays at £24,980 less stereo, leather trim or air conditioning. These little comforts would add another £2,680.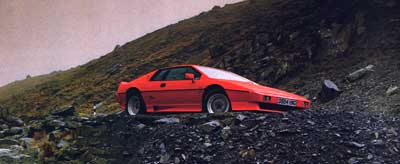 Externally, Giugiaro's original shape has dated just a little, but is still striking and the car's capacity to turn heads in a crowed high street has to be seen to be believed. Some try not to look. Others gaze unashamedly. Smart ladies always take a sneaky look to check just what the man who has a spare £25,000 really looks like. A sweat-shirted hack must then come as a disappointment. . . Whatever your position left of Thatcher, it's attention that's easy to bask in, and rarely is it hostile, which happens when you drive a Roller. There is, unfortunately, an additional qualification other than money required for Esprit ownership. Simply, you need to be less than six feet tall. The seats are deep and comfortable and, for the first time ever, adjust for rake, but still the car could not comfortably accommodate 6ft 3in of Editor Dron, and my 6ft 1in was decidedly cramped. Add to this twinkletoe pedals that are way to the left of the steering wheel and an awkwardly crooked, across-the-car pose became essential. Then, the welts of my size 12s became tangled between the pedals until I resorted to trainers, but after that the pedals are ideal for heel and toe throttle blipping.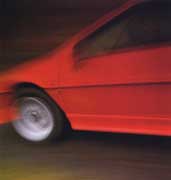 None of this seems to matter when the mood is right. Take the Lotus by the scruff, and it submits meekly like no other chassis in the world. Ease the Bedford lorry-style gearchange that controls the Citroen van-derived gearbox into first, wrestle with the vastly heavy steering as you move away, check the mirrors like you would a van's, while easing the car's ample flanks past parked cars, then go. Magically, the steering lightens. A huge fist massages the back, and barely is there time to check the rev counter than it's another raised elbow grope with the gearchange to grab second. Adrenaline will surely flow as the whole machine comes alive. Take firm hold, and now even the palm-bruising gearchange seems willing to accept swift movements. Aim the bluff snout that dips out of view beyond the flat windscreen, and take pleasure in the fact that the car will make an expert out of you in no time. In the turbo matching game, Lotus have really succeeded where others more experienced, notably Audi (quattro) and Saab (9000) have failed. The time taken for the Esprit's turbo to spin up to boost is barely noticeable. You can hear it though, breathing heavy through the intake just behind your right ear. What begins as a whistle at 2,000rpm, grows to a subdued roar at four. Shut the throttle for the shift and the wastegate whiffles like a horse snorting into a bucket. It's a marvellous soundtrack for rapid progress, never offensive, and Walter Mittys can easily dream of Le Mans as the whistle, rush, and chatter quickly but smoothly punctuate the race car surge through the lower gears. The engine's pick-up and power delivery is also deceptive. Renault's 2.7 litre GTA turbo actually feels more muscular because its turbo happens with such a rush. But by the time France's only real supercar is awake, the Lotus is already pulling hard. The figures lend support. Any of the 20mph gaps between 40 and 90mph in fourth are disposed of in around four and a half seconds; 60mph from rest takes 5.4 sec, and 100mph just 14.9. The Esprit's midrange punch is truly enormous, probably a gear up on the earlier model through most corners, so you don't have to wrestle with the gear-change if you don't want to. Only on sheer top speed does the HC's performance fall behind that of the opposition, but there are those, especially the helmeted variety, who might feel that 144mph is more than enough.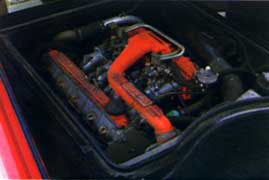 At all speeds the Esprit's engine remains utterly smooth, effectively answering criticism from any who would demand more than four bores in the supercar. Indeed it's necessary to keep a keen eye on the rev counter in the lower gears, because the needle is always willing to shoot beyond the final 7,000rpm analogue; there's no limiter, and no harshness to remind you to look. But for a boom period at 4,000rpm, the power unit is exemplary when running. Starting, however, brings a reminder that there are still carburettors under the engine cover. At 25 grand, four cylinders might just be acceptable, but much churning to pump out the vapour in hot Dellortos is not. They also bring about the odd hiccup when hoofing the throttle after a gearchange, and besides, there are lots of people who have forgotten how to use a manual choke.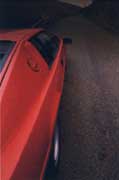 There will also be some who never even reach the limits of grip afforded by this car. Once the peculiar, over-centred feel of the steering at parking speeds has long disappeared, you can add probably 20mph to the maximum safe hot hatch pace round your favourite corner. There is a safe amount of understeer to reassure the wary, and yet, as this increases with the car's speed, more throttle will tighten the line rather than increase the push as happens with lesser chassis. Lifting off has a similar effect, but even on a wet roundabout, full turbo power can be unleashed in second gear. At first, the car simply accelerates. Then, as the roll angle builds, the inside rear wheel begins to part company with the road surface and spins away the excess of power, noisily but safely. Try that with a Porsche 911 and you'll understeer off into the bushes. Do it to a GTA Renault and the car will be facing the other way, quicker than you can even think about it. Only by entering a wet corner rather too fast on a trailing throttle and then planting your foot in it, can you persuade the Lotus' tail to stray out of line. Then, a gentle grasp of the wheel will allow the considerable amount of castor, which had hindered your parking efforts, to take charge of the correction, and the Esprit will step neatly back into line. The steering takes a little getting used to, as its weigh decreases as lock is applied, which is the opposite of the norm. It does help on slower corners though. The narrow-by-some comparisons Goodyear NCTs (195/60 x 15 front, 235/60x15 rear) might well be racing slicks for the grip they generate on a dry surface. All of which really goes to highlight the balance of the chassis even more, and it's just as well that it never wants to bite. The speed at which this car can be conducted safely defies belief, and yet it has reserves left in the chassis to deal kindly with most inept of drivers. The roads today are simply too crowded to allow full use of the Esprit's performance, and probably the biggest danger is to arrive on the scene travelling far faster than you thought. Drive it sensibly and it will get you out of most situations. For all this, the ride is more as you'd expect from a comfortable saloon. Jiggly only at lower speeds, when the car cocks itself to follow the road surface rather than accommodating it with suspension travel, the body control when emerging from a series of sweeps or creasting a rise is simply superb. The brakes deserve a similar accolade. Immensely powerful, progressive and ideally weighted, they always pulled up square without premature locking of the fronts, and are generally beyond reproach.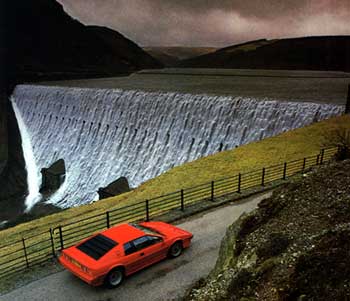 When the Ayrton mood departs though, and the horns retract, you soon become aware that good though it now is. This is still a plastic car. The instrument pod shimmies constantly, and there is a constant kicking back through the wheel and into the scuttle and bodyshell. Sometimes it's reassuring in its constant communication with the road. Other times it's plain irritating, and feels peculiarly as if the wheels are too heavy for the car, shaking it about. That and the general rumbling of the road and thumping of the suspension does lend a certain air of the less than substantial about the car, rather like sitting inside a fibreglass bass drum. Nevertheless, there were no squeaks or out-of-place rattles from the test car, which had covered over 6,000 press-inhabited miles, so provided you can put up with Ginger Baker as a full-time travelling companion, there would appear to be no practical grounds for concern. The Esprit is a car that rewards but does not demand. It needs effort to get the pleasure, but then most things do. It has arguably the best chassis of any production sports car in the world in terms of ultimate ability - it even has just the edge over the Ferrari 328, which doesn't quite have the ultimate grip or the reserves of safety. The Lotus turbo package is among the best anywhere, the ride and the brakes are excellent, and the performance figures speak for themselves. It is, however, far from perfect. It's a supercar for shorties. Four cylindered and without injection. The cockpit is spattered with bits of Austin Maxi, doing posthumous duty as door handles or wiper stalks. But then again, in supercar terms, it's not expensive. Renault's GTA runs it close on performance, has considerably more room, better visibility, and it's similarly priced at £24,960. It lacks the class of the Lotus chassis and engine, and lacks the name which makes the lads at the bar look up from their pints of lager. A Renault turbo, to them, spells a 5GT. Never could an Esprit turbo be considered sensible, but a least these days they are day-in useable. If you crave excitement and startling appearance above all else, at the price you need look no further.
Double overhead camshaft, (belt driven) water-cooled in-line all alloy four cylinder 2,174cc (bore/stroke 95.3/76.2mm) mid mounted. Five main bearings. Compression ratio 8.0:1. Four valves per cylinder. Induction by twin Dellorto carburetters (DHLA45M) and Garrett T3 turbocharger. Lucas electronic ignition. Maximum power 215bhp at 6,000rpm. Maximum torque 220lb ft at 4,250rpm.
Rear-wheel drive, five speed manual gearbox. Internal ratios and mph / 1,000rpm Top - 0.76:1/22.7 Fourth - 0.97:1/17.8 Third - 1.32:1/13.1 Second - 1.94:1/8.9 First - 2.92:1/5.9 Rev - 3.46:1 Final drive - 4.38:1
Goodyear NCT; front 195/60 VR 15, rear 235/60 VR16 on alloy 7Jx15 front rims and 8Jx15 rears.Brakes,servo assisted ventilated discs front, solid discs rear. Dual circuit split front/rear.
Front: Upper and lower wishbones, coil springs, anti-roll bar. Rear: Upper and lower transverse links, longitudinal radius rod, coil springs.
Test carried out at the Millbrook Test Track, Bedfordshire.
Maximum speed (lap of banked circuit): 143.8mph Fastest quarter mile: 146.0mph Acceleration from rest:
0-60 - 5.4, 0-70 - 7.4 0-80 - 9.3 0-90 - 11.9 0-100 - 14.9 0-110 - 18.5 0-120 - 24.7
Acceleration in single gear 5th/4th: 20-40mph - 12.0sec/7.8sec 30-50mph - 9.6/6.0 40-60mph - 7.7/4.6 50-70mph - 6.7/4.4 60-80mph - 6.7/4.4 70-90mph - 6.7/4.7 80-100mph - 7.0/- 90-110mph - 8.0/-
overall comsumption: 15.0mpg Composite: 23.9mpg Tank capacity: 18.9galls Max range: 452miles