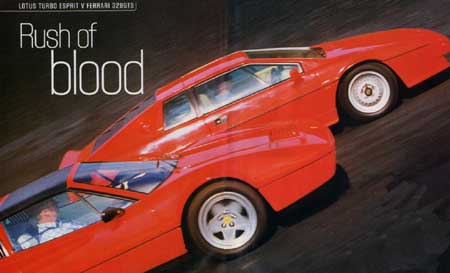 Rush of Blood
Lotus Turbo Esprit v Ferrari 328GTS
Classic Car October 1999
Two red cars – both of them beautiful, mid-engined and with acceleration to make your eyes bleed.
Lloyd McNeil drives the Ferrari 328GTS and Lotus Esprit Turbo HC
Nothing comes close to a blood-red Italian sports car with a prancing horse on the nose. Everyone knows that. What is less well known is that a small but highly regarded car company from Norfolk, England, spent the eighties building a two-seater sports coupe that had the measure of Ferrari's pace setting 328.
Anything the Ferrari could do in terms of performance, the Lotus Esprit Turbo could match. It didn't lag all that far behind in terms of heritage either – at the time, Ferrari and Lotus were the two most successful teams in the history of Formula One, although both manufacturers were beginning to wilt under increasing pressure from newcomer specialist racing teams such as Williams and McLaren.
What set the Lotus apart when new was a price tag only a fraction of the Ferrari's. Price is still the deciding factor today – you can buy a Lotus Turbo for one-third the price of a comparable Ferrari. But would is ever be a satisfactory substitute? There's only one way to find out…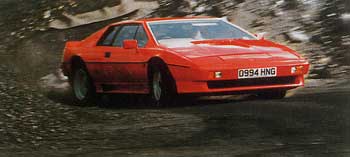 LOTUS TURBO ESPRIT HC
CLASSIC CARS CONTRIBUTOR AND Lotus Esprit owner Mark Dixon is merely the latest in a long line of motoring journalists to enjoy this particular car's remarkable performance — it began life as lotus' Turbo HC press demonstrator and was tested by such esteemed publications as Motor, Autocar and Fast Lane.
A hard-working early life seems to have had little ill effect on this lotus Turbo Esprit HC (to give its correct but often misquoted title). Its angular Giugiaro-designed body is painted the same pristine red it appeared in the grainy colour motoring supplements of 1987 and a dozen years of posterity have been kind to it. What was regarded as slightly passé wedge styling when new has matured into a quasi-nostalgic signifier of the golden pre-yuppie supercar era, and, to my mind, its bespoilered shape looks even better than the original Esprit's.
The Turbo Esprit's reputation for shattering speed and a sublime chassis make it a desirable concubine for drivers of all shapes and sizes. But most will be perturbed — you need suppleness to fold yourself through the door into the reclined driving position, strong limbs to depress the clutch and turn the steering at parking speeds, nothing much larger than size ten shoes to use the closely spaced pedals, and a frame little taller than six feet to be comfortable enough to drive. A car for Lilliputians, then? Not so. The high, non-adjustable steering wheel and instrument binnacle impede forward vision unless you can sit tall in the seat. It seems that Lotus was still building ears only Cohn Chapman clones could enjoy properly several years after his death.
Owing to a mid-mounted, 16-valve, 2.2-litre engine powering the rear wheels through a Citroen SM transaxle, the Esprit's rearward vision, mechanical accessibility and luggage stowage areas are of typical super car non-compromise. Such trifles melt away, however, the moment the engine fires. Well, almost. When the engine's cold it sounds rough. with a hint of piston slap. It takes on a far different character once warm, though...

The transformation from benign drivability at lower speeds to the rev limiter cutting in at a screaming 7000rpm is seamless, with the unit actually getting smoother the harder it works. There's no perceptible lag as the turbo kicks in under all but the gentlest acceleration. Once the rev counter passes 4500rpm the turbo's influence is really evident, turning a quick car into a heart-stopper that buries you into your seat and rockets you onward at a rate no 2-litre four should rightfully aspire to. The 60mph barrier is passed in comfortably less than six seconds, hut you're only just getting into your stride. If ever you find a safe opportunity to achieve it, you'll go ton-up in less than 15 seconds and finally run out of legs a shade below 150mph.
Shifting the stumpy gearlever through its deceptively long throws requires a firm hand and detracts from its otherwise sporty feel. It would be too cruel to call it lorry like, though the muffled whinnying of the turbo dump valve with every shift is vaguely reminiscent of a horse box... Such irreverent images are dispelled by the haste with which the outside world rushes past, emphasised by a rapid increase in wind noise once you pass 100mph.Unlike many glassfibre cars, the Esprit isn't plagued by squeaks and rattles. Its leather interior is pleasant rather than overtly lavish, giving the impression that Lotus spent as little time and money as possible to create an acceptable standard of trim. You sense that it requires careful treatment to keep it looking smart.
Predictably, the Lotus' chassis is more than a match for the engine's performance. To say that it clings on like a koala in a hurricane is something of an understatement. It corners with virtually no roll, and the steering quickly loses its low-speed heaviness and becomes beautifully communicative, informing you of every road surface undulation.
Despite its lack of front-end weight the Lotus holds a true course over mid-corner bumps, only revealing a tendency to under steer if the road is wet or you stand on the magnificent all-disc brakes on the way into a corner.
A forgiving driver's car it may be, but never effortless — to get the most out of it and drive it well requires copious concentration and a deft touch as the next obstacle hurtles towards you at lightning speed. But that's its charm: it's a serious car, for the serious driver.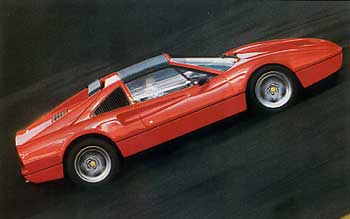 FERRARI 328GTS
SURELY THE FERRARI 328 IS ONE OF the most beautiful cars ever made? Compared with the sharp Lotus, the curvaceous 328 possesses a delicacy of detail that reflects Ferrari's tender temperament Its sumptuous Pininfarina-designed body seems draped erotically across its low-slung chassis, and everything from its generously scooped NACA side ducts to its petal-thin engine cover and rear quarter light louvres looks fragile, capricious and unwilling to compromise.
This mood continues as you slide into the flawless cream bucket seats and cast your eyes around the interior. The colour-coded, touch-sensitive heater controls seem almost as dainty as the slim gearlever that juts through the characteristic polished steel open gate — one false shift and you feel you might snap it off Even the three-pronged steering wheel that projects from the dash on a slim column at arm's stretch has an endearing air of fragility.
The engine, although smoother than the Lotus from a cold start, is oddly and unjustifiably more worrisome. Pride of place in the instrument console goes to the oil pressure gauge with built-in warning light, and both the oil and water temperature gauges are a quick glance away on the dash in front of the gearlever. It's amazing more Ferraris don't suffer frontal damage, because your eyes remain glued to these gauges the whole time the engine is running. You can't help yourself. Thanks to its Bosch K-Jetronic mechanical fuel injection, the engine fires without assistance from the throttle and idles gruffly until it begins to warm. Much has been written about the difficulty of Ferrari gearboxes' tricky dogleg first gear and reluctance to select the lowest two ratios until warm but, if you take your time and give a little blip of the throttle mid-change, even at start-up the 328 will move into second with no trouble. The alternative is to skip straight into third gear and exploit the 3.2-litre engine's boundless flexibility.
It doesn't seem to matter which gear you are in — the 328 will pull strongly from a burbling 1500rpm through peak torque at 5500rpm to a wailing 7000rpm maximum, which translates into a remarkable 50-150mph in top gear. With such flexibility, overtaking is a gentle squeeze of the throttle rather than a panicked rush for gears that are easily missed by the careless, but which reward the attentive with a gratifying 'click' as each new ratio is slotted firmly home.

Transverse V8 will pull from 50 to 150mph in top
Ferrari found it hard to improve on 308/328's sublime shape. Those circular rear lights have almost become a trademark
Cream leather may be overdoing it, but Ferrari interior is most inviting.

The Ferrari's steering requires less effort than the Lotus' at parking speeds, and there's a slightly clearer view behind when reversing. Once on the open road the steering lacks some of the Lotus' sensitivity and demands a touch more lock to guide you through the tighter turns, which can become draining in a series of fast corners. At speed the Ferrari is less nervous than the Lotus, feeling more compliant on unsettled road surfaces and more inclined to roll gently into a stable cornering attitude. This is all the more surprising because the Ferrari is noticeably lower than the Lotus, occasionally brushing the ground over speed bumps or roughish terrain that the Lotus takes in its stride.
Ultimate grip is perhaps not in the Lotus' league — it seems easier to encourage controllable power oversteer while accelerating through quickish corners, although we didn't notice the tendency for alarming snap oversteer that you might expect of a mid-engined layout. Get the Ferrari roughly straight and road-shredding traction becomes its great strength. making sure every last speck of that delicious torque finds its way onto the tarmac. Anything the turbocharged Lotus can do...
While the straight-arm Latin driving position is nowhere near as uncomfortable as many pundits would have you believe, the interior ventilation is. On a sunny day the cockpit feels stuffy even with the optional air conditioning running at full blast. It's a relief to pop out the targa roof and stow it behind the seats, and the extra light it lets in goes some way towards alleviating an annoying reflection of the dashboard in the windscreen.
With the top down and the day's serious driving over, now is the time to indulge in the Ferrari's other great strength - posing. Once you've got over the embarrassment of feeling like an overpaid footballer, you can't help but enjoy the 328's unmatched ability to turn heads and invite longing gazes. Whether it's an ego boost or an adrenaline rush you need, after a few hours with a 328 it's difficult to imagine a more fulfilling alternative.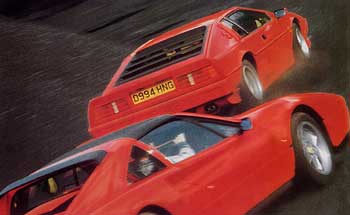 328 chases Turbo Esprit: Ferrari's bigger engine is a match for Lotus' turbo
Verdict
SO, WHICH IS IT TO BE? IT WOULD BE easy to blurt out Ferrari! just because it's Italian and red and makes a lovely noise, but that would be to do the Lotus a grave injustice. There's no denying that, in an ideal world, the Ferrari is the better car, and if you get the chance to drive one you should jump at it. It is as pretty as anything on the road, has a superb engine with a wailing song, is delightfully balanced. swooningly fast and alluring in every detail. You can never underestimate the power of its pedigree, either.
But nowadays it's also three times the price of the Lotus, which matches the Ferrari wheel for wheel on performance and probably out handles it. Sure, the Lotus is made of plastic and its interior is less upmarket, but if this is all that stands between you and a twisty A-road at sunrise, then you'll see it in proportion.
If you can afford a Ferrari, buying a Lotus would be an affront to your senses. But if you fancy Ferrari performance for the price of a new hatchback, there's only one contender here.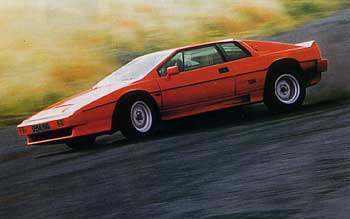 Lotus Turbo Esprit: Bonds bargain supercar
Engine: Four-cyl. 1 6-valve, 2174cc
Fuel system: Twin DallOrto DHLA 45A carts will, Garrett T3 turbocharger
Gearbox: Five-speed manual
Brakes: Servo-assisted discs (inboard at rear)
Body: Two-door glassltbre coupe, galvanised steel chassis
Layout: Mid-engined, rear-wheel drive
Suspension: Front: independent with upper wishbones, lower transverse links, coil springs, anti-roll bar
Rear: independent with upper and lower transverse links and radius arms, coil springs
Steering: Rack and pinion
Length: 4.22m
Width: 1 .85m
Weight: 1147kg
Power: 2l5bhp@6000rpm
0-60mph: 5.6sec
Top speed: 146mph
Consumption: 23mpg
Price new: £27,940
Value now: £14,000
Esprits will always be associated with James Bond. Lotus provided two cars for The Spy Who Loved Me plus five farther bodyshells, some of which were converted into seven-knot submarines for the famous Underwater scenes. Bond also drove a Turbo in For Your Eyes Only'.
The first Esprits used a single electric motor and tie-bar to retract the headlamps, but this was quickly upgraded to twin motors because a single one couldn't retract the lamps above 120mph...
The Turbo Esprit was cheap as well as quick. Its basic price without extras was £23,440 in 1986. Its main supercar rivals were the De Tomaso Pantera GTS at £34,247, Ferrari 328GTB at £34,750, Lamborghini Jelpa at £36,577 and Porsche 911 Carrera Sport at £36,676.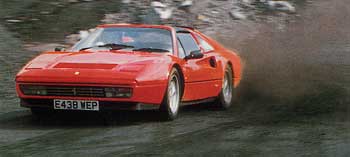 Ferrari 328: the hand-crafted best seller
Fuel system: Bosch K-Jetronic fuel injection
Gearbox: Five-speed manual
Brakes: Servo-assisted ventilated discs
Body: Two-door steel and aluminium targa, steel chassis
Layout: Mid-engined, rear-wheal drive
Suspension: Front: independent with double wishbones, coil springs, telescopic dampers, anti-roil bar.
Rear: independent with double wishbones, coil springs, telescopic dampers, anti-roll bar
Steering: Rack and pinion
Length: 4.25m
Width: 1 .73m
Weight: 1325kg
Power: 270bhp @ 7000rpm
0-60mph: 5.5sec
Top speed: 158mph
Consumption: 19mpg
Price new: £34,750
Value now: £37,000
The 328GTB/GTS range is Ferrari's most successful road car ever with 8412 sales. During the 328s first full year of production in 1986, Ferrari's overall productivity hit a new record high of 3640 road cars.
Such was Ferrari's attention to detail when producing the 328 that each cars engine was built and tested by one mechanic to ensure a high level of care and to cut down on mistakes.
Although not normally a firm to hide its light under a bushel, Ferrari was surprised to learn it had initially under-recorded the 328's performance. Both the UK's MotorSport magazine and Road and Track in the US shaved more than a second off the then official 0-100mph time.
Grand Prix driver turned TV commentator Martin Brundle was once the proud owner of a Ferrari 328GTB road car.