Autocar Road Test 1988 - Lotus Esprit Turbo
Back in sleek new clothes and boasting improved aerodynamics, the Esprit Turbo is faster than ever — the first roadgoing Lotus to top the magic 150mph figure.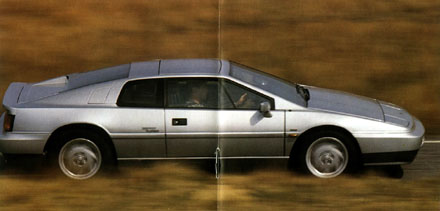 Click on picture to enlarge
by Andrew Yeadon
IT FELT LIKE A QUICK RUN.
EVEN though the engine had bogged down slightly off the line, the speed readout was showing 103mph at the 1/4 mile post. The printout proved it: 60mph in 5.4 secs and a standing quarter mile time of 13.7 secs put the new Esprit Turbo in exalted company. Be in no doubt, the new Lotus is blisteringly quick. That stunning new shape has clearly improved the aerodynamics, and the claimed benefits to torsional rigidly can also be felt. With a rare blend of ride and handling plus exceptional stability at all speeds it devours miles on winding backroads or sweeping autobahns alike. The new shell offers other benefits. It provides more room inside, allows a new instrument panel and controls and reduces interior noise levels Lotus has also made a determined effort to match the build quality of the Esprit's more expensive rivals — and it's closer than ever before to that goal.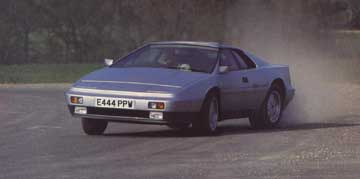 TECHNICAL FOCUS
A galvanised sheet steel backbone chassis, wishbone front suspension, and composite grp bodywork are familiar Lotus trademarks. Underneath the sleek new shell much of the mechanical side of the Esprit is identical to the old. Mid-mounted transversely between the twin rear 'forks' of the chassis is the 16-valve, all-alloy, four-cylinder twincam fed by two Dellorto DHLA 45M twin-choke carburettors and a new watercooled Garrett T3 turbocharger with integral wastegate. Unusually for a high-performance application, there is no intercooler. One major item that has changed is the transaxle. In place of the previous Citroen unit, Lotus now fits the transmission from the Renault GTA. This gives slightly higher gearing with a 3.88:1 final drive ratio. The gearchange is also Renault-derived. The new gearbox has meant a change in the rear brakes. These have been moved to a more conventional outboard mounting on the cast alloy hub carriers. Brake cooling is improved, but unsprung weight is increased. Solid discs are used at the rear, while at the front ventilated discs are employed. Rear suspension remains as before with transverse upper and lower arms, and a cast alloy toward-facing radius arm attached rigidly to each hub upright. As at the front, concentric coil spring/damper units are used. Steering is rack and pinion and unassisted. The body obviously differs in shape but is now formed by the VARI process (Vacuum Assisted Resin Injection). This offers many advantages over traditional hand lay-up but the most significant gain is that up to six bodies a day can be produced from one set of mould tools. The process begins in the conventional way by coating a female mould with gelcoat. But instead of laying up with reinforcement material and resin, just the dry reinforcement material is positioned on the mould surface along with any polyurethane foam formers that are to be incorporated into the structure. In the case of the Esprit, much of this reinforcement is in the form of CFM (Continuous Filament Mat) but in specific areas woven glass material is employed. To provide the necessary high strength for roll over protection, Kevlar reinforcement is used for the roof pillars and sides and, so create a stiff torsion box in each sill, foam inserts are placed into the mould, wrapped in glass CFM. With all the reinforcement materials in place, an inner male mould with an airtight seal around its periphery is brought down under the female mould and bolted into place. Now the Polyester resin matrix material can be added. A vacuum is applied and this draws resin into the mould cavity from several, points. The resin is injected under low pressure and the whole process takes anything from several minutes for a small panel to about an hour for a bodyshell upper or lower half. The vacuum not only draws resin into the laminate evenly, but also clamps the two together. Because the whole operation takes far less time than a hand lay-up process, faster curing times can be implemented and bodies released from mould tools much sooner, thus allowing a quicker start to be made on the next car. Curing takes place at room temperature. Other bonuses are a reduction in labour costs and a more uniform laminate thickness. The Esprit bodyshell is moulded in two halves — the floor section/lower body, and the upper, bodywork. Once released from the mould tools, these halves are joined together using an epoxide structural adhesive on the overlapping joint along the waistline of the car. This joint is reinforced in specific areas on the inside by overbonding with glass cloth. Finally, the bodyshell is painted, using two-pack polyurethane paint, and cured in the over at 80deg C. Once bolted together, the body and chassis create a structure with almost double the torsional stiffness of the basic backbone chassis.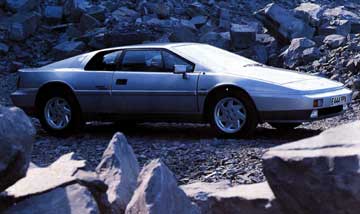 PERFORMANCE
Despite the fact that the turbocharged 2174cc 16-valve engine is the same as in the old Esprit Turbo HC, its 215bhp at 6000rpm is enough to propel the new-look Esprit to a top speed of 150mph. At 6350rpm in top, the engine is spinning well past its 6000rpm power peak. The engine is rev-limited to a true 7000rpm, although on our car the dial showed 7000rpm at a true 6600rpm. The change to a Renault GTA transaxle has brought third, fourth and fifth gears closer together, with a slightly bigger gap between second and third, and a significantly larger jump from first to second. A lower final drive ratio has raised the overall gearing to 23.7mph 1000rpm in top,giving a maximum speeds in the gears (at actual 7000rpm) of 4l, 67,99 and 131mph. With no more power and a kerb weight almost 530lb heavier at 3013lb, the Esprit shouldn't be quicker. But it is. Drop the clutch with a shade over 4500rpm on the clock and the 235-section Goodyear NCT's spin for several yards before biting hard and hauling the revs back just below peak torque. With the boost gauge showing over 0.6 bar, the rev counter needle rushes round to 7000rpm. Ease rearward pressure on to the gearshift fractionally before a rapid dip of the clutch and the Esprit is in second before you know it. There is a slight pause as the engine builds back to full boost, then 60mph flashes up in 5.4 secs from rest. From zero to 100mph takes new Esprit 13.3 secs and the quarter mile 13.7 secs, the kilometre mark coming up in 25 secs dead at 129mph. The old Esprit Turbo HC (Autocar, 8 April 1987) managed 60mph in 5.6 secs, the quarter mile in 14.4 secs at 99mph, 100mph in 15.0 secs and the kilometre in 26.2 secs at 122mph. The new Esprit Turbo is in Porsche 911 and Ferrari 328 territory.'. . In the gears, the wide spread of torque gives the Lotus exceptional flexibility for a relatively small displacement engine. Although it won't pull smoothly from very low rpm, it starts to build boost at 2500rpm and, by 3000rpm, is pulling hard. Figures of 2.9 secs, 4.3 secs and 6.3 secs from 50-70mph in third, fourth and fifth gears give you some idea of the overtaking acceleration. All 150mph cars need fine brakes and the Lotus has them. Discs all round, ventilated at the front, haul the Esprit down repeatedly from well over 100mph with no sign of fade. With such a low centre of gravity, the Esprit suffers little from weight transfer underbraking, and a 50lb pedal load generates 1.2g
ECONOMY
The new Esprit's weight increase does show up in its fuel economy — we recorded an overall average of 19.6mpg compared with 20.9mpg for the older and lighter Turbo HC. Even during speed testing, economy didn't sink below 17mpg, while fast motorway cruising gave around 21mpg. That represents a useful range of over 300 miles. The tank has a filler in each C pillar. ROAD BEHAVIOUR There is a new l4 ins steering wheel, but the feel of that manual steering is just as good as before. And 2 turns lock to lock is acceptable gearing given the 36 foot turning circle (the actual steering ratio is 15.4: 1), but at low speeds it can be hard work. The faster you go, the better it gets. Steering effort is close to perfect at open-road speeds and, even at maximum, the Esprit tracks arrow-straight, oblivious to crosswinds or amber changes. On lesser roads at speed, the suspension soaks up the undulations and the dampers allow hardly any wallow or bounce. Wide Goodyear NCT rubber, 185/60VR15 at the front and 235/60VR15 at the rear, provides tremendous lateral grip in the dry. The mid-engined layout permits typically rapid changes of direction and the Esprit turns in quickly with very little body roll. Apply too much lock though and there is understeer. Like many mid-engined cars, the Esprit won't tolerate sloppy driving. Go deep into a corner on a trailing throttle or come off the brakes too late and you'll need to be quick with the wheel to catch the tail. But get the braking over early and the power fed back on smoothly to pin the rear down and there's no doubt that the Esprit can be cornered very fast. The Lotus can be coaxed into oversteer readily on the throttle and, in tight corners, be powered out with a twist of opposite lock. Get the car set up in the corner with a trace of throttle oversteer dialled-in and the steering precision and throttle reaction needed to hold the car on line isn't quite there. With a short, mid-engined car, already quick to yaw, that means total concentration. You would have to be going exceptionally hard to detect that sort of behaviour. The all-round agility and grip of the Esprit combined with its fine brakes and shattering performance, make it an exhilarating car to drive quickly. REFINEMENT For a sportscar on wide, 60 per cent aspect ration tyres the Esprit Turbo rides remarkably well. At low speeds it is undoubtedly firm, but never harsh — as you up the speed, the ride becomes more supple. Equally there is very little tyre roar or bump thump from the Goodyear NCT's and hardly any body shake. With the engine behind your ears there's not much you can do to isolate that, but the Esprit °s four-cylinder engine doesn't generate the right sort of music for a supercar. There is a constant buzz from it and, although turbo whistle and whoop are kept out of the cabin much better than before, they can still be detected. Thanks to the new shape, double door seals and steel window frames, wind noise is reduced, but there is still a considerable amount once above 80mph. At maximum speed the front edge of the roof panel lifts away, creating a tremendous din. There are also rattles and squeaks over bumpy roads.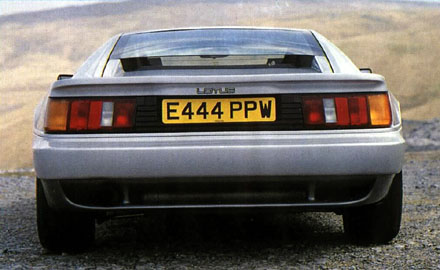 Click on picture to enlarge
AT THE WHEEL
There is a distinct air of quality to the new Esprit Turbo interior. The full hide, two-tone leather trim (£660 extra) is carefully trimmed and well finished, with a new three-spoke leather-trimmed steering wheel that both looks and feels the part. Climb over the high door sill and slip, into the low slung, almost reclining driving position next to that high,wide transmission tunnel and the feel is pure sports car. There is more head, leg and shoulder room than before, but six foot-plus drivers will still find themselves short of legroom. But even with the roof panel in place there is adequate headroom. Unfortunately the seats are pure sports car too. A transmission tunnel and door to hold you in place during enthusiastic cornering is no excuse for providing seats with no side support to speak of, either on base or backrest. Those in the Esprit have only simple slide and backrest angle adjustment, are thinly padded and not particularly well-shaped below the shoulder blades. The base needs an angle adjustment to provide some thigh support for taller drivers, while the removable headrests are simply folded-over layers of padding that dig into the back of the neck The non-adjustable steering column is perfectly placed for most, although taller drivers will find their knees fouling the lower edge due to the lack of legroom. Because of the wheel arch intrusion the pedals are set slightly to the left, and are close enough to make heel and toe gearchanges easy. There is also a left footrest, but this is set rather too high. The Renault transmission has brought its matching chunky gearknob with it, and although the lever positioning is fine, the action is less so. Around town it always feels heavy, notchy and rubbery and even though it can be whipped through the gate very quickly indeed for the first couple of standing start runs, after that we could not select second gear with any consistency. Engaging, first usually involves hitting the tuning buttons on the radio. Clutch action is more satisfactory, being both light and progressive.
The brakes are undoubtedly powerful and tide-free, but response could be more progressive at lower pedal pressures in normal use we found the level of servo assistance rather high. Lotus uses a fly-off handbrake to the right of the driver. VDO instruments, binnacle and switchgear are new. There are gauges for voltage, oil pressure, turbo boost, coolant temperature and fuel as well as the larger rev counter and trip speedo — the fuel gauge and top of the rev counter are masked by the steering wheel. A small digital clock lives under the boost gauge but on our car this refused to show the time. Three pushbutton switches at each end of the instrument panel look after lights, heated rear screen, hazards and both sets of fogs lamps. Together with the usual twin steering column stalks to look after indicators, dipswitch, horn and wash/wipe the minor controls all function well. Under the stereo in the centre console, two knobs that look like rejects from a home-made radio, control heating and ventilation. Together with a three-speed fan they perform reasonably as a heater but give precious little. scope for fresh air ventilation — the 'face level' vents on the dash are at knee level and masked by the instrument panel and steering column. Visibility is quite good for a mid-engined sports car. You can actually see rearward in the interior mirror, but the glass panel between the rear buttresses does cause some distortion — using the door mirrors is a safer bet. Joining Y junctions still needs care because of the limited rear three-quarter vision, but some other sports cars are worse.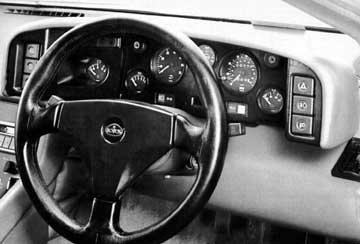 CONVENIENCE
Solving the hot starting problems associated with turbocharged engines and carburettors isn't easy. Lotus has fitted an engine purge pump that whines away when the engine is stopped after a run and is supposed to help, but the Esprit still takes plenty of cranking. Full manual choke is needed from cold and even then the Lotus isn't eager to roar into life. New electric window and mirror switches in the driver's door function well, but central locking would be more useful than electric mirrors, given the long stretch across to the passenger door lock. Neither door-mounted cigar lighters worked. There is a generous glove box in the Esprit, but precious little other oddment storage. A vertical pocket at the rear of the transmission tunnel is suitable for maps, but there is nowhere to put cassettes or sunglasses. Flip the lever in the rear of the driver's door pillar, though, and you expose a surprisingly large luggage bay behind the engine — certainly big enough for a weekend's luggage for two. Just as well because there is virtually no space under the bonnet, which is full of spare wheel, brake servo and fuse boxes.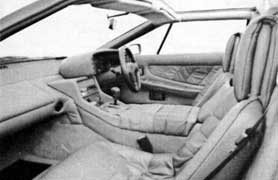 VERDICT
The Esprit Turbo has many points in its favour. Searing performance, a chassis and brakes to match and sensational looks are only part of it. You also get acceptable fuel economy, a fine ride with very little road noise and reasonable luggage space for a two-seater. The new interior isn't perfect, but it's a lot better than before. Cars which reach 150mph and cost less than £30,000 are thin on the ground. If you want to reach 60mph in under 6 secs too, only the Esprit Turbo fits the bill — to get this sort of performance from Germany or Italy you'd need to spend the thick end of £40,000. By supercar standards, the Esprit Turbo is something of a bargain.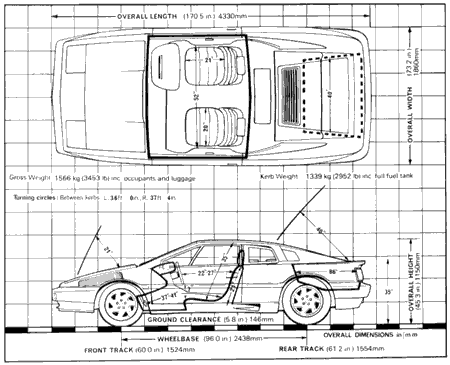 SPECIFICATION
ENGINE
Transverse, mid, rear-wheel drive
Head/ block al. alloy/al alloy. 4 cylinders in line.
Bore 95.3mm, stroke 76.2mm,
capacity 2174cc.
Valve gear 2ohc. 4 valves per cylinder.
Compression ratio 80 to 1.
Electronic breakerless ignition.
Twin Dellorto DHLA 45 carburettors
Garrett T3 turbocharger. boost pressure 9.5psi (0.67bar).
Max power 215bhp (PS-DIN) (160kW ISO) at 6000rpm.
Max torque 2201b ft (298 Nm) at 4250rpm.
TRANSMISSION
5-speed manual
Gear Ratio
Top 0.82
4th 1.03
3rd 1.38
2nd 2.05
1st 3.36
Final drive ratio 3.88:1.
SUSPENSION
Front, independent, double wishbone. coil springs, telescopic dampers, and-roll bar. Rear, independent, upper and lower transverse link with radius arms, coil springs, telescopic dampers, anti-roll bar.
STEERING
Rack and pinion. Steering wheel diameter l4ins, 2.9 turns lock to lock.
BRAKES
Front 10.1ins(258mm) dia ventilated discs. Rear 10.8ins (275.9mm) dia discs. Vacuum servo.
WHEELS
Al alloy,7ins rims front. 8ins rear. Goodyear Eagle NCT tyres size 195/60VR15 F, 235/60VR15 R.
ACCELERATION FROM REST
True Time mph (secs)
30 2.3
40 3.3
50 4.3
60 5.4
70 7.1
80 8.7
90 10.7
100 13.3
110 16.3
120 20.1
130 26.0
Standing mile: 13.7 secs,103mph
standing KM: 25.0 secs, 129mph
FUEL CONSUMPTION
Overall mpg: 19.6 (14.4 litres/100km) 4.3 miles/litre Grade of fuel: Premium, 4-star (96 RM) or unleaded (95RM)
Fuel tank: 18.0 Imp galls (82 litres) Mileage recorder 4 per cent long
CLUTCH
Pedal 15lb; Travel: 6.O ins
WEIGHT
kerb 3052lb/1386kg distribution % F/R 51/49 Test 3434lb/l559kg
Max payload 501lb/227kg
COSTS
Prices Total (in GB) £29.950.00 Road tax. delivery, no plates £560.00 Total on the Road £30,510.00 Insurance group 9