Fragile vs EGO
It's hard to imagine rational BMW and brilliant but fragile Lotus competing head-to-head.
That the M1 and Esprit had so much in common is a bigger surprise.
Classic Cars, August 2004
words by Tony Dron, photography by Malcolm Griffiths

They share so much, this pair of mid-engined two-seaters, it was irresistible if a bit cheeky to put them together. For starters, both appeared in 1978 and both these wedgy dream machines were styled in Italy by Giugiaro. All right, the cheeky bit is that the German car is easily the quicker, as well as always being by far the more expensive machine. The BMW was a good old homologation special costing the best part of £27,000 at the factory gates in Germany. Makes you wonder whether Lamborghini, contracted to build the M1 for BMW, failed to deliver for BMW because they realised it was better than the Countach. But that would be uncharitable. Lamborghini had all sorts of business problems and BMW had to take the project back to Germany.
On the other hand, the Lotus was nothing more, nor less, than company boss Colin Chapman's notion of the perfect sporting road car of its time and he sold it for £11,754, including Car Tax and VAT, in the UK. Yet the fundamental idea – to produce an ultra-modern sports car based on the latest racing thinking – was the same in each case.
So, more than a quarter of a century down the road, does the popular notion of fragile Norfolk ingenuity matched against solid Bavarian precision hold true? Will one of them emerge as a more characterful winner, a more desirable classic to own now, in the 21st century? Driving them both on the same day produces the odd surprise.
Which, for example, do you suppose is the more comfortable? I had imagined the BMW would win hands-down on that score and I'll be most of us would expect that. Well, it just isn't so. The unpretentious interior of the M1, famously designed to match the company's saloon cars of the day, shares its instruments and switchgear with contemporary 3 series and 7 series models. It has a certain stark appeal which many find attractive, but I had forgotten about he headroom. You really need to be about 5ft 8in tall to be comfortable in the BMW and the lack of support, worsened seriously by the inadequate headroom, can spoil the driving pleasure in an otherwise magnificent machine.
The truth is I had to remove by size 12 shoes to drive both cars, but for different reasons. With shoes on in the BMW, my right knee got between the gearlever and the steering wheel when selecting reverse or first; in the Lotus, the small pedals are simply very close together and you need special footwear, something like racking boots – or no shoes at all – to drive it safely. That said, I knew I would fit into the Esprit as I have driven many of them down the years, but I had forgotten how comfortable they are once you have wriggled inside. The Lotus has a more laid-back driving position than the M1 but I felt properly supported in the Lotus and would have no problems driving it all day.
Such things are serious issues only to tall freaks like me, so enough said. What matters more is how the two cars match up for looks, style and driving experience. We could not have found two better cars for that. The M1 belongs to BMW Great Britain and it's a perfectly-maintained original with only 23,000 miles covered. The Lotus has had a more active life but it, too, is lovingly maintained by devoted owners Barbara and Arthur Clarke, the events organisers in the Midlands for the Lotus Drivers' Club. No excuses needed here for either of these two great cars. They're both as good as new.
As for looks, both are head-turners. But the M1 seems to attract slightly more attention, probably because it is so rare. It's a masterpiece of styling, that glassfibre body, being muscular yet dignified from every angle and still, with its kidney grille at the front and recognizable rear lights, very obviously a BMW. The Lotus, with its sharply-chiseled look, is another widely acclaimed classic Giugiaro design. They're different but both score very high points for style.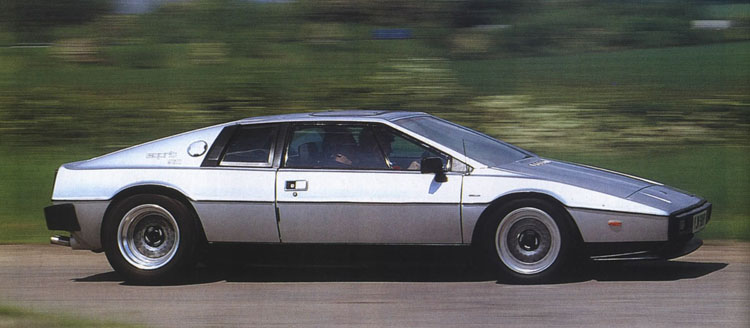 Inside, the contrast between these two cars could not be more extreme. While the BMW does its best to look like a stern, respectable Bavarian business machine instead of the racer it truly is, the Lotus is plush and carries that 'Thunderbirds Are Go' style instrument pod in front of the driver's eyes. Both interiors command respect but I reckon this sort of car should be partly about fun and I prefer the Lotus for that reason. Personal choice is all-important here, however, so you are allowed to disagree.
Based on the six-cylinder 635 block, the BMW's engine is magnificent. It sounds great and it delivers awesome performance by 1978 standards. Remember this is only the 'cooking' version. producing 277bhp, but it is more than powerful enough for road use. Even today, the standard M1 is still a very fast car, capable of 100mph in third gear – a speed at which it is merely ambling along. With maximum torque at 5,000rpm, you need to change gear quite frequently to get the best from it, but if you're not in the mood for that you can leave it in a relatively high gear and it still performs well. The full Group 4 racer, with 470bhp, must have been some machine, not to mention the Group 5 racer, with a turbocharged 3.2-litre engine producing more than 850bhp.
The Lotus engine, of course, is a more modest and much smaller four-cylinder unit. While this sounds less impressive on paper, Chapman was always looking for low weight as part of the overall concept of his cars. A big, heavy engine has to be carted around the corners along with everything else in the car. With a relatively small, efficient engine, he aimed to preserve the nimble handling that was his specialty. In that context, the specification he chose for the Esprit S2 still makes good sense.
The downside of the Lotus engine is that it's boomy and noisy. I can live with that because it's not the kind of boom that gets on your nerves. The main sound on wide throttle openings is a lusty roar, a deeper note than you might expect, and I rather like it. Switching back to the M1, however, there's no denying that the BMW engine is a superb and delightful thing to have behind your back, thrusting the car along.
Changing gear with the dogleg-first ZF box in the BMW is fine once you get used to its rather odd feel. The direction in which the lever has to be moved from second to third, for example, doesn't feel like the straight line you'd expect. the entire transmission is obviously immensely tough, but the clutch travel and gear lever throws are both long. The Lotus gearchange feels lighter and more switch like, giving the feeling that smooth changes can be achieved much more quickly.
The mid-engined design of these cars gives that typical, almost magic-carpet ride. It's just not sufficient to say the handling of both is safe and reassuring: it's outstanding in each case, superior to most other mid-engined machinery. Without all the safety kit and other items modern cars need to comply with complex regulations, these two are both lightweights by high-performance road car standards. They don't have ultra-low profile tyres, nor excessively wide wheels, yet their roadholding ability is still high.
When you start swooping through fast, open bends in the S2, you can feel what Colin Chapman was on about. The Esprit is light to handle, fast in its steering responses yet wonderfully stable and surefooted. Eagle-eyed readers may have spotted the 1980 Essex-model wheels fitted to this car. Arthur has been unable to find tyres in the right size for his original wheels and has been forced into this temporary compromise. I'd be tempted to leave it like that because the car feels fabulous just as it is. I really enjoyed my brief drive in it, a moving reminder of Colin Chapman's visionary notions of how to create a high-performance car.
On a fast, open circuit, of course, the more powerful M1 would see it off with ease. It, too, is extremely reassuring when you start to mean business in the corners. It's only six inches longer than the Lotus but, thanks to its much larger engine and consequently more massive components everywhere else, it is 30 per cent heavier and it feel correspondingly less nimble. In tight corners, I suspect the Lotus would take its turn to run rings around the German car.


In a car park, for what it's worth, there's no contest. This is where you realise that the M! really was designed for racing; the turning circle is a huge 43ft and it's hard work in such tight spaces. Only then do you notice it has no power steering. Parking ability is irrelevant to a racing car so this is not a fault, simply something to bear in mind if you're thinking of getting one.
Although cars like these are not built for shopping, Barbara and Arthur did once do a big shop in their local supermarket, forgetting they'd taken the S2 and not Arthur's Jaguar. They managed to get the contents of a piled shopping trolley into the S2 but it would take half an hour to explain how they did it. You really don't need to know: just take it that both cars have reasonable luggage space, but I suspect the BMW protects it better from heat in the back and water in the front.
Is the Lotus reliable? Arthur has had only one really bad experience. When he bought it, the cambelt had just been changed, which seemed good and proper, but what he didn't know was that the tensioner hadn't been replaced. Result: failure and a bill for about £1,762.83. If I remember right. Since that engine rebuild the car has been reliable over thousands of miles.
What about that fickle thing: how much? Back in 1978, the BMW started off at about three times the value of the Lotus but it leapt away and is now worth about eight times what you have to pay for a decent Esprit S2. If you're not that rich and you're looking for simple driving pleasure from this kind of car, the choice is obvious: get a Lotus Esprit S2. In some ways it's actually better to drive.
But life is not that simple. Both are are items, especially the M1, and let's face it, this particular M1 is unique, an unspoilt item. It's not for sale but on the open market there would be an unholy scramble for it. Without consulting anybody on the matter, I suggest its history and condition would make it fetch a great deal more than £50,000.
Serious BMW collectors would kill for it, I'd say, and this fabulous example deserves to be taken almost that seriously.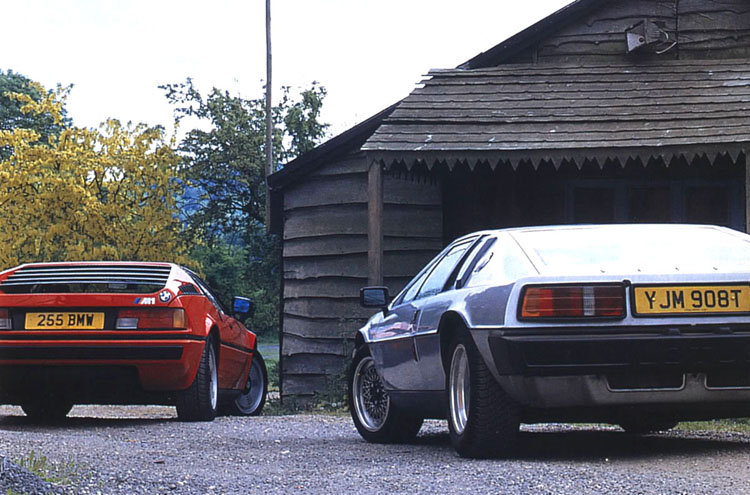 1978 Lotus Esprit S2

Engine 1973cc, in-line four cylinder, dohc, four valves per cylinder, two Dellorto DHLA 45E carburettors Power and torque 160bhp@6500rpm, 140lb ft@5000rpm Transmission Five-speed manual, rear-wheel drive Brakes Discs front and rear, servo assisted Suspension Front: independent, unequal wishbones, coil springs, telescopic dampers, anti-roll bar, Rear: independent, lower transverse links, fixed-length driveshafts, semi-trailing arms, coil springs, telescopic dampers. Steering Rack and pinion Weight 2229lb (1011kg) Performance Top speed: 130mph; 0-60mph: 7.7 sec Cost new £11,754 Value now £6,000
1978 BMW M1

Engine 3453cc, in-line six-cylinder, dohc, four valves per cylinder, kugelfishcher-Bosch mechanical fuel injection Power and torque 277bhp@6500rpm, 239lb ft@5000rpm Transmission Five-speed manual, rear-wheel drive Brakes Ventilated discs front and rear Suspension Front: independent, double wishbones, coil springs, telescopic dampers, anti-roll bar, Rear: independent, double wishbones, coil springs, telescopic dampers, anti-roll bar. Steering Rack and pinion Weight 2865lb (1300kg) Performance Top speed: 162mph; 0-60mph: 5.6 sec Cost new £26,810 (at the factory in Germany) Value now £50,000-plus (see text)