Sports Car Illustrated
The Lotus gem goes on a bender

The bend was wide, flat and open, almost track-like, apart from the occasional ridge or rut. It was the perfect spot to test the Lotus Esprit Turbo's handling. It was almost the perfect place to photograph this Lotus gem; Northumberland, untried by motoring magazines, except for the area around the notorious A68, which takes you north from Newcastle upon Thyne, across the Scottish border, to Edinburgh. We had five days to find suitable locations and the answer to our question: How does a one year old, standard Lotus Esprit Turbo fair? Revamp Our car was a 1988 model, registration E472 KBL, based on the revamp on show at the previous years Motorfair. Loaned to us by Brian Atthews of the London Lotus Centre, it was about to be pensioned off, with 12,000 miles on the clock. At the back of our minds was the fact that the Charge cooled 1990 model year Turbo SE had just arrived on the market at £42,500. It improvements had also been made to the standard, £33,900 Turbo and £28,100 non turbo models.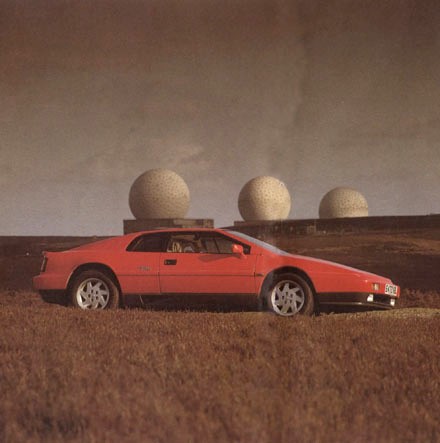 I left Edgware, North London, in heavy traffic, en route for Photographer Brandwood's home in Bolton, Lancashire. In these conditions, it took some time to come to terms with the Esprit's girth and clutch, four and a half years after last driving one. It soon became clear that this Turbo Esprit was much better than the previous generation model. I was soon traveling north on the M1. Speed was not one of the essence and the Esprit Turbo soon proved happy just to sit at about 80mph. That's 3,000 rpm and the turbo is hardly on song. Dab the pedal a little bit to pass an itinerant middle lane hogger and the boost flashes up - graphically illustrated by the small binnacle mounted gauge - and you're away, able to dart in and out of the fast lane as required.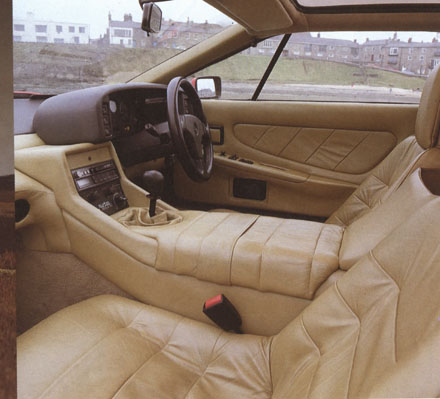 For a fairly highly strung mere 2.2 litre four, the Esprit Turbo's engine is remarkably tractable and unfussed. The driving attitude should be to let it potter along, drop a gear a spin the turbo on when you want to pass a group of vehicles or just a single one. If it requires a technique to get in and out of the rep fast lane brigade as quickly and efficiently as possible, no problem - the Esprit Turbo does it with merry aplomp. Soon the car needs fuel. In fact, only Toddington services, in Bedfordshire had been reached. Having filed up, though, I discovered a little problem. Never being a great in the body builder stakes, I'd actually wrenched the fly-off handbrake on and couldn't release it to continue..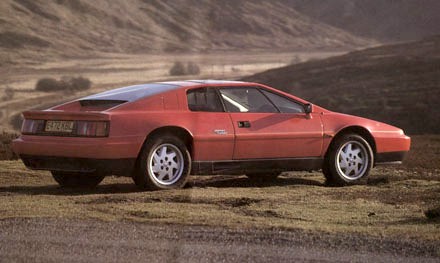 I'm quite used to these devises (honest!) but, for some reason, I'd just applied the Esprit's to hard. A number of frustrating minutes later, it's back on the motorway, relived that the journey could continue. Holiday traffic abounded and the Department of Transport had decided to carry our more motorway repairs than normal. Not one, but two, major black spots loomed as car and I headed further north. Being from Manchester originally, I'm used to this journey and had done the same route in the last Esprit Turbo - a 1985 model year version - I'd tested. Not only were car and I in stop start traffic, but in between, on what long stretches there were, we had to make up some time. Despite the two extremes, the Esprit was happy to both and gradually, as the miles piled on, I became more and more confident that Lotus now knows how to match Porsche standards of refinement…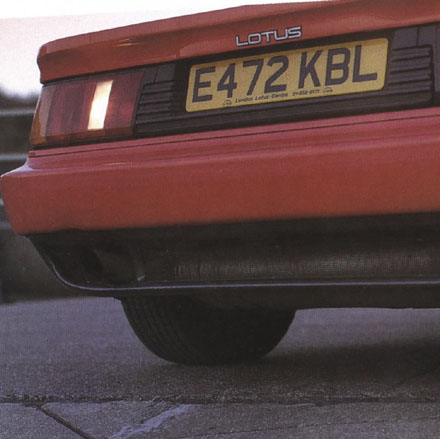 And refinement is a key virtue of the present Esprit's make up. Gone are the days of a Lotus of this type being a raw sports car in the mould of a Seven of a Europa. The Esprit delivers it's power in a smooth, sensuous manner, The turbo's actively barely noticeable, save to flicker of the boost gauge. In the old model, you could clearly hear the muttering of the wastegate when your foot came off the pedal, rather than like a big eagle flapping its wings in anger. Now, it's a soft, delicate sound. And, to draw the analogy, I'd say it's that of a butterfly. Given these attributes over the original, plus the overall feel of the Esprit, it's hard to imaging why anyone would want to drive a bloated executive car.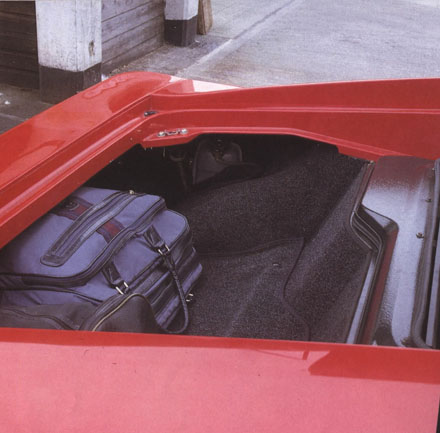 I can't see any major failings in the Esprit Turbo's refinement levels and general driving ability - given you accept the limitations of its low slung mid engined layout. This, after all, is a sports car, and one to rival many a supercar at that! The car didn't miss a beat though out all our hard driving, which speaks volumes again for Lotus.