Cradle to Grave
Lotus Esprit
Practical Classics – December 2003
by Nigel Boothman
Photography by John Colley

The Lotus Esprit was dismissed as a wacky-looking concept when it first appeared at the Turin Show in 1972
But from '76 to '87 that first wedge-tastic shape started to turn heads all over the world. So what are they like today?
Flat. That's the first thing you think when you see an Esprit, especially when it's tucked between bits of modern traffic. These days, Minis have the same wheelbase as Range Rovers and most hatchbacks are a tall as people carriers, so at only 37.5 inches tall, the early Esprit models seem about hip-high.
There's no doubt about the visual impact of that angular shape, though. Giorgetto Giugiaro's folded paper styling is a beautifully organised meeting of various flat surfaces, and is still a real head turner in 2003. The car's impact in the mid-Seventies, scything through herds of coke bottle-waisted family saloons, was even more extreme.
The Esprit's genesis was actually earlier still, origination in Giugiaro's first attempt at clothing the four and eight cylinder Europa replacement projects, codenamed M70 and M71. A non-running prototype bearing all the main features of what was to become the Esprit appeared on Ital Design's stand at the Turin Show in 1972, and drew much praise. Colin Chapman said he wanted to get the car into production in the following 18 months using new 2-litre twin cam 907 engine, recently unveiled in the Jensen Healey.

This turned out to be a little ambitious, what with the Arab-Israeli war putting paid to any V8-engined version the strife over the supply of engines for the Jensen Healey project, and it was January 1975 before a running prototype was ready to test. Another nine months of intense development saw the car ready for the Paris Show launch on October 2 1972.
Jaws dropped, flashbulbs popped and orders were taken by the fistful, not least from on Albert R 'Cubby' Broccoli, producer of the James Bond films. Lotus worked for a year on the various road cars and mock-ups for The Spy Who Loved Me, but it was all worth it when the dashing Roger Moore implanted the armed and amphibious Esprit into the national consciousness.
Back in the real world, things weren't going so swimmingly for the new car. Everyone was impressed with the looks, but early road tests found some design flaws and dynamic shortcomings that didn't sit well with the purchase price – around £8,000 when launched, compared to £7,500 for a TVR Taimar Turbo or £9,900 for a Porsche 911, both of which were a good deal quicker. Unhappily, the Esprit was never quite as fast as Lotus said it was, and supercar looks like these really needed more power to back them up. But the extra oomph didn't arrive until the Eighties.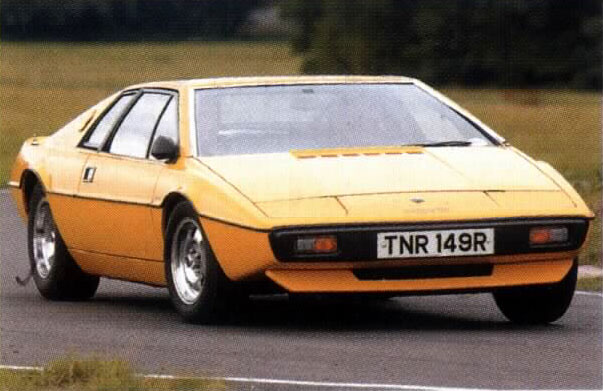 What were the early cars really like to drive? Not an easy question to answer these days, as so few unmolested Series 1 cars have survived. Luckily, we have Kevin Kinsella's ultra-original 1976 car to play with today.
From the first few months of production, this bright-yellow wedge still has its tartan seats (a feature of the Giugiaro prototype) and Wolfrace slot mag wheels, and it looks absolutely fantastic. Cocooned instorage for 18 years, it's barely run in with 36,000 miles on the clock. Apart from the odd bit of sun-fading on the upper interior surfaces and the add-on pod for the radio, it could be two years old.
So how do you actually get in? Kevin's got it figured out but it doesn't look exactly graceful. As I fold, curl and wriggle my way into the driver's seat, I remind myself than Mike Kimberly, the man who was to become MD of Lotus, make sure he could fit his 6ft 5in frame into the new car at the design stage. My head is clear of the roof, my feet fit the pedals, but my left knee is tight between the steering wheel and the chassis tunnel, the huge box-backbone that gives the car its strength. Still, better than expected.
This car's time spent in storage is a little more noticeable behind the wheel, where the heavy and uncooperative gear change and stiff throttle makes slick progress a little more difficult than you'd hope. The engine has a pair of aftermarket filters on the carbs and the 2-litre four has a marvellous intake roar as you wind up to 6000rpm to wring the full 160bhp out of it. The steering is ridiculously accurate, and around the Curborough sprint course we've chosen for today's shoot you feel you could thread it between the cones with millimetre precision.
There's pleasant sensation of speed, and acceleration is lively, but the early Esprit could never be described as a neck-snapper. The brakes haul you up straight and true, and the little Lotus turns out to be a surprisingly practical car, as Kevin has proved by pressing it into occasional daily usage. There's a usable boot behind the in-line engine and above its Citroën five-speed transaxle, though the front compartment is more or less full of spare wheel and radiator.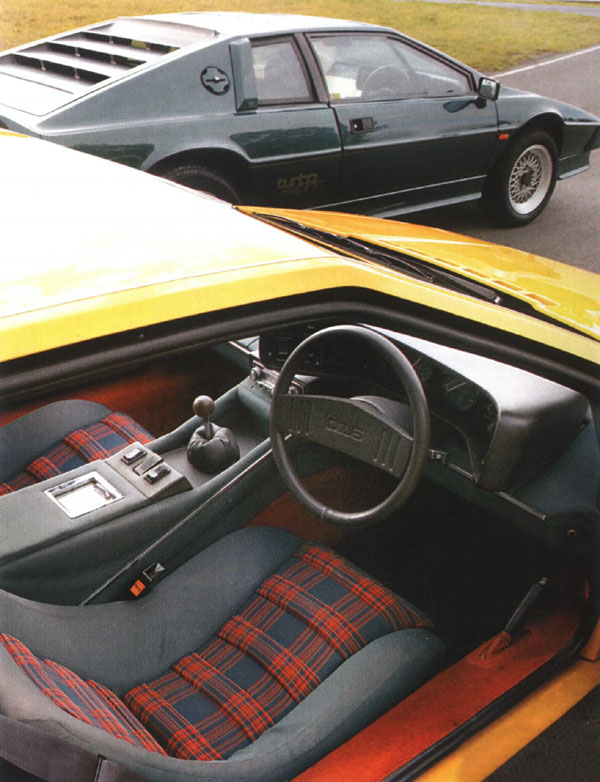 Little changed for the Series 2, although cooling and aerodynamic improvements and different camshafts boosted everyday usability (see item below). A much bigger step forward was the introduction of the enlarged 2.2-litre 912 engine (just a stroked version of the 2 litre really) in May 1980. The 'Series 2.2' Esprits were easier to drive quickly and a lot more responsive, despite producing very similar peak power, due to a good spread of torque throughout the rev range.
But sporty B-road handling and 25mpg don't define a supercar in the bedroom-wall poster sense of the word. Add spoilers, stripes, a 150mph top speed and a Turbo badge, and you're getting there. Lotus did just than in 1980 when the garish Essex Turbo Esprit appeared, soon to be superseded by the proper Series 3 Esprit Turbo in 1981. After a brief and rather unnecessary flirtation with dry-sumping, they settled down with a conventional wet-sumped version of the 2.2-litre engine augmented with a Garrett turbocharger nestling near the back of the engine and blowing through a pair of Dell' Orto 45M carburettors.
This gave minimum turbo lag and a maximum of 210bhp until the final HC version came along. It was enough to carry the top-of-the-range Lotus through the first half of the Eighties, as the side skirts and spoilers remained, with very more luxurious interiors and a wide variety of paint jobs giving the affluent and supple sports car buyer of 1986 plenty to choose from.
If he or she had chosen the metallic green Turbo lent to us by UK Sportscars they wouldn't have been disappointed. There is enough ruched cream leather inside the car to upholster a Lear jet, and the dash features controls for air conditioning, electric mirrors, and of course, a properly mounted stereo, high-spec in its day. There's a glass sunroof that you can tilt up if the extra seat padding has robbed you of vital inches of headroom, and an immobiliser serves as a reminder that this is a valuable and relatively modern supercar.
This car, like both the others we've tested today, starts first time and continues to give the lie to the old story of Lotus Of Trouble, Usually Serious. You're immediately aware that there's something different going on behind your head; the engine sounds busier and more modern, and as soon as you plant your foot and hear the turbo whistle, you know it's a little bit special.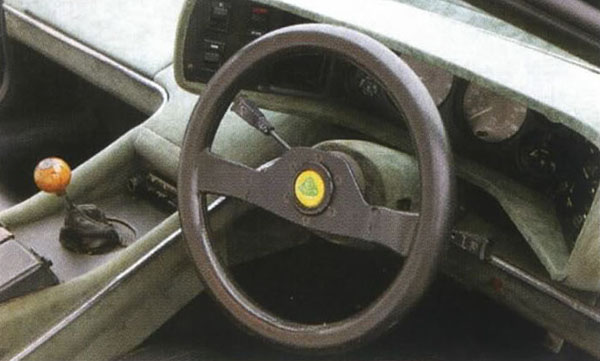 More than a bit, actually. The lack of Turbo lag or peakiness means that the car accelerates faster than you think it does, with no sudden whiplash power delivery or tyre-smoking panic from the back end. Sure, it picks up significantly when you get to 3500rpm and beyond, but the feeling is more like being attached to the horizon by a long bungee cord then it is like being fired out of a gun.
So you wrestle and stiff and heavy 'box (no improvement here, despite a more direct linkage than that in the S1 and S2) through the first three or four gears, and the scenery reverses towards you rather quickly. The Esprit will settle into a very relaxed lope of nearly 100mph at 4000rpm if you let it, but more legal speeds are advisable in a car as pointy and noticeable as this one.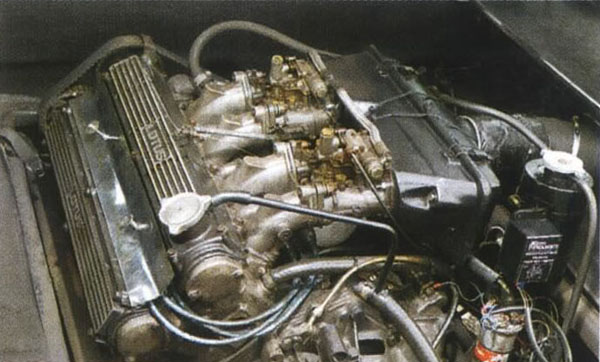 Around the tight curvers of Corborough, this Lotus is a bit of a handful. There is now enough power to deliver you into corners a bit too fast and to blat you out of them with the back end slithering, although this may be due to renewed suspension requiring adjustment as the springs settle in. The car certainly rides a lot higher than the earlier examples.
The brakes are superb, though, and the steering is still very precise. Add this to the whine and whoosh of the turbo and wastegate breathing at you through the bulkhead vent by your right ear, and you have a pretty stirring driving experience. It got a little more stirring for those who opted for the run-out HC (high compression) model with its 215bhp, standard-fit air conditioning, leather and matching designer luggage, yours for £31,000 in 1986 and '87, more than a contemporary Ferrari 308.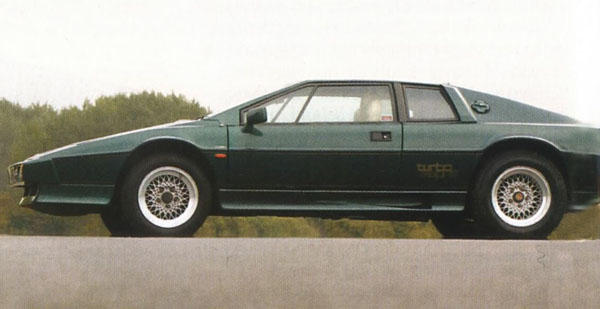 By this time, however, the top brass at Lotus felt than the old shape was a bit too angular and sharp edged to look right among the 'jelly mould' fashions of the production car design that took hold in the Eighties, and the last of the old-shape cars rolled out of the factory at the end July 1987. The new weapon, the 'Steven's shape' (after designer Peter Stevens, who also penned the fwd Elan) was a very different car inside and out, although the basic flashy looks and driving experience were much of the same ilk.
Which is what the Esprit is all about, really. The looks and the drive, and never mind about everything else. They're not badly made cars, but neither do they inspire confidence. There are a few too many self-tapping screws and sticky door catches in evidence, with loose trim or carpet exposing fibreglass matting, things you just wouldn't find on a Porsche.
It's better to think of Lotus as a kind of Norfolk Alfa Romeo; they might break down now and then, the build quality is never exactly Teutonic, but the feeling you get behind the wheel continues to inspire legions of loyal followers to put up with the shortcomings.
Which would I take home? All three. I love the looks of the Series 1, the driving experience of the Series 2 and the addictive turbo whoosh of the Series 3, and I really can't pick between them. Besides, if one of them misbehaves, I'd have another two to chose from.
Thanks to: The cars' owners; the Lotus Drivers' Club especially Bob who picked up the keys in yet another Esprit, his immaculate S3 Turbo. The green car is for sale at UK Sportscars for £12,995. Call 01227 728190.
Specification
S1
Engine: 1973cc/4-cyl/dohc
Power: 160bhp@6200rpm
Torque: 140lb ft@4900rpm
Gearbox: 5-speed manual
Top Speed: 124mph
0-60mph: 7.9sec
MPG: 23.5mpg
Length: 13ft 9in (3.54m)
Width: 5ft 1in (1.42m)
Weight: 2275lb (1003kg)

S3 Turbo
Engine: 2174cc/4-cyl/dohc
Power: 210bhp@6000rpm
Torque: 200lb ft@4000rpm
Gearbox: 5-speed manual
Top Speed: 151mph
0-60mph: 5.6sec
MPG: 18.5mpg
Length: 14ft 2in (3.63m)
Width: 5ft 1in (1.42m)
Weight: 2512lb (1148kg)
ESPRITVOLUTION: The Series 2
The Lithe and lovely silver Series 2 brought to us today by Arthur and Barbara Clarke of the Lotus Drivers' Club is a good example of how much Lotus liked to fiddle with the specification to keep interest in the car turning over. I'm surprised it was necessary really, as this car is very nearly as much of a head turner as the yellow Series 1, only a couple of years older.
The simple, flat profile is the same, still uncluttered by add-ons and sitting pretty on four slot, Speedline wheels, which are the quickest way to tell a Series 2 from a Series 1. Arthur's motor has also grown ears behind the rear side window to aid engine cooling and has familiar-looking rear light clusters – nicked from the Rover SD1.
It's inside the cabin that those detail changes are most obvious. Gone is the Bay City Rollers lunacy of Kevin's tartan Series 1 (itself only one of many options), replaced instead with a much more subtle dark green alcantara-like dash material surrounding dark leather seats. The radio is tucked in snugly, just in front of the gearstick.
This car has been in the wars a bit, what with a serious fire and an eye-wateringly expensive cambelt failure, but Arthur has nursed in back to health to his own, improved specification. A new camshaft has allowed a significant power increase, without much loss of tractability, and wonder of wonders, the gear shift is light and precise. It shows it can be done with proper adjustment.
This transforms the driving experience, as does having the bite point of the brake pedal set right for nifty heel-and-toeing. You can chuck this car about with confidence, race through the cogs and get a push in the back as you plant your right foot. That's exactly what Arthur does. Last week, the Clarkes were at a track day at this same venue. Bravo!