Practical Classics February 1996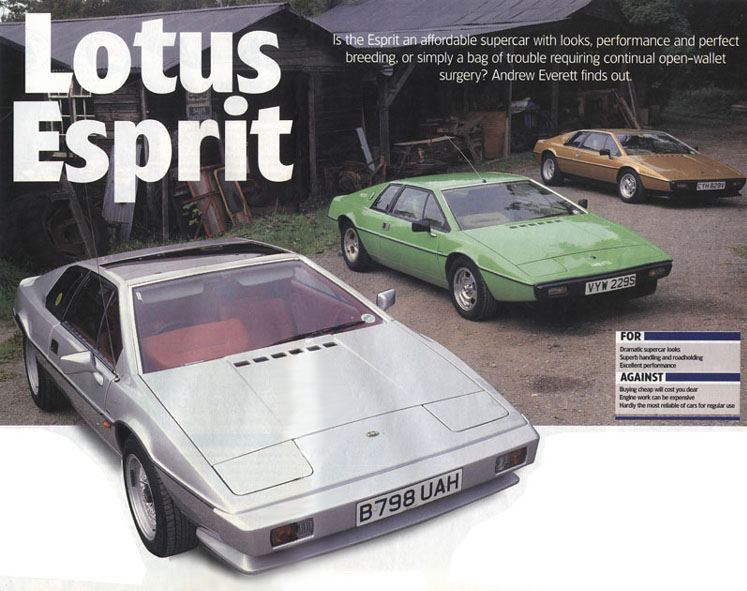 Is the Esprit an affordable supercar with looks, performance and perfect breeding, or simply a bag of trouble requiring continual open-wallet surgery?
Andrew Everett finds out.
It's a warm summer evening, and the locals are supping lager in the beer garden. Conversation diminishes as an immaculate Lotus Esprit rolls into the car park and nestles between a pair of Maestros. Envious eyes check out the red leather trim, big exhaust and low sleek styling. And yet only the informed few know that this mid-engined supercar would only cost £6,500 to buy in absolutely top notch condition.
They're all wondering if a good, normally-aspirated (non turbocharged) Esprit makes sense as an indulgent second car to keep in the garage and take out for weekend blasts, or is it best avoided like the bar room experts might advise?
Life for the Giugiaro-styled Lotus Esprit (pronounced 'Espree") began in September 1975 when the first S1 was launched to replace the long running Europa. Like its forebear, the Esprit was a GRP-bodied, mid-engined sports car with a steel backbone chassis, but that's where the similarities end. Whereas the Europa was aimed at the potential Lancia Fulvia or Alfa Romeo buyer, the new Esprit had the kind of looks and performance that would interest someone about to buy a Ferrari 308GT4 or Porsche 911.
Powered by a 160bhp version of the twin-cam 16-valve 907 engine, the new car would touch 135mph and accelerate to 60mph in just over 7 seconds — not bad for a 2-litre motor. Power was transmitted to the road via a Citroen Maserati five-speed transaxle, while Wolfrace slot alloy wheels and Dunlop D1 tyres filled the wheelarches. The lack of exterior ornamentation gives the car a clean look missing from the later Esprit Turbos, and even today the S1 looks modern.
Inside, the wood veneer of the old Elan and Europa cars was swept away by a futuristic new interior with tartan trim and a facia that might have come from a spaceship.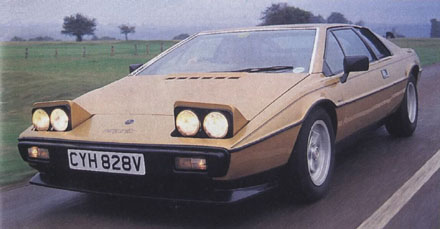 A picture of the Lotus Esprit S2 - Click on image to enlarge
SUSPECT RELIABILITY

In typical Lotus fashion, reliability was pretty awful on the S1 and many problems lasted throughout production. The S2 was launched in late 1978 and the car was markedly improved. Exterior changes included wider alloy wheels made by speedline in Italy and Rover SD1 rear lights plus different bumpers and a better front air dam. Inside, the dash was now cloth trimmed, and the upholstery was changed from the tartan cloth to Markasite single tone velvet.

The famous black JPS World Championship celebration cars were built in late 1978, and featured gold external detailing, World Championship badging on the doors, gold wheels plus seats trimmed in black leather with yellow fabric inserts. A 2.2 litre engine was used in the last of the S2 cars, and the much improved S3 Esprit was launched in 1981. This was externally identifiable by new BBS lattice alloy wheels and all black exterior trim, and in this form the car ran up until 1987 when it was replaced by the smoother, restyled X180 (later to become the S4) Esprit which is still in production.
As for actually buying an early Esprit, we contacted both Paul Matty Sportscars in Bromsgrove and Melvyn Perks from Lotus main agents SGT Ltd near Maidenhead for some hands-on advice. Both establishments have specialised in Lotus cars for around 20 years. Rule number one is to avoid any car without a service history. These are cheap to buy but very expensive to run, and potential buyers should budget £1,000 a year for servicing and repairs regardless of mileage.
It sounds a lot by Morris Minor standards, but the Esprit is a complex car that needs proper maintenance — neglect at your peril! The other golden rule is to buy the very best car. Not the very best car you can afford, because £3,000 cars are generally old sheds, but the very best car, period. Because the cars are so undervalued at present, full restorations are only worth considering if you can do all the work yourself and you can buy a complete car for £1,000 — unlikely. Sorry to sound pessimistic, but you can't run an Esprit on a shoestring.
All Lotuses use GRP bodyshells and as a consequence rust is not a issue. Cracks in the glassfibre used to be the bane of the Elan owner, but the quality and thickness of the Esprit's body is vastly superior.
Even so, check for stress cracking in all the unlikely places such as around the bonnet aperture, door frames and pillars. The paint on these cars was applied to the inside of the female mould and then laying the glassfibre on top. The paint finish on even the early cars was good, and it got even better as time passed. Metallic painted S1s and S2s can suffer from problems with lacquer lifting off on the earlier S1 and S2 cars. The windscreens are bonded, and a new one is expensive and needs professional fitting.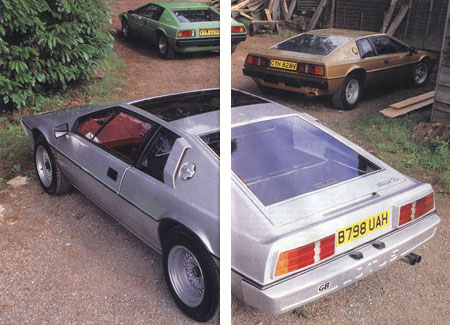 Whereas the Elan chassis was quite rust-prone, the Esprit suffers less because it is more enclosed by the bodyshell. Any defect in the chassis is bad news, however, and many specialists will not attempt to repair it. It is made from 16 and 18 gauge steel, and any minor repairs must be undertaken by a reputable specialist. A chassis change is not the end of the world, but it definitely makes a £3,000 car beyond economical repair unless it is excellent in all other respects.
As with all Lotuses, the suspension uses bits and pieces from various manufacturers, and the front suspension comes from the A-type Opel Manta. This holds no particular terrors for the DIY fanatic, but there is advice about the unique rear suspension.
Because the driveshaft assembly forms the top wishbone link, the driveshaft universal joints and wheelbearings need to be in perfect condition. For these items, only ever use genuine Lotus parts. As the the UJs, the original parts have greasable and beefed-up needle rollers — cheap replacements can be destroyed in under 100 miles.
Brakes are fairly conventional, with ordinary calipers and solid discs on the front but inboard discs at the rear with calipers that have the handbrake mechanism built into them. Front pad replacement is easy enough, but changing the rears involves a ritual that is best left to a dealer or specialist — it won't cost a fortune or take very long and avoids expensive mistakes. Steering racks are long-lived, despite turning those fat tyres.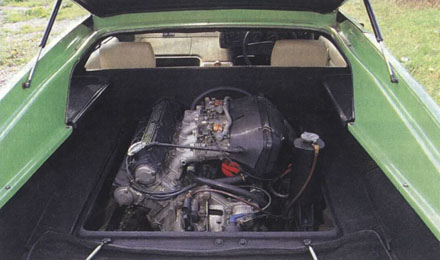 Lotus Esprit S1 Engine bay - Click on image to enlarge
ENGINE CHECKS

Undoubtedly the most expensive part of the car, a full rebuild at a specialists will set you back around £3,500, so you want to make sure the one you're buying is good. Regular maintenance is critical, so look for evidence of 3,000 mile oil changes, new cambelts every 20,000 miles or less, and properly set-up carbs and ignition timing.
Looked after properly, these engines are wonderful, but if treated with indifference they become a nightmare. Always a fairly harsh engine, you should hear a small amount of top end camshaft noise but nothing else. Oil pressure should be around 80lbs when cold at 2,000rpm, and about 60lbs when hot. Listen for deep rattles when the engine is blipped and at 3000rpm on a very light throttle which indicates worn big ends, a deep rumble which indicates worn main bearings. Finally, when the engine is warm check for blue-grey exhaust smoke which means worn piston rings or valve guides.
Early 2.2 litre cars had a habit of seizing the rear main bearing due to poor oil feed, but this should have been sorted out long ago. With the engine warm, remove the oil filler cap with the engine idling. There should be no more than a light breeze of oil vapour coming out; puffing grey fumes indicate a well worn engine.
Equally important is the engine oil; make sure that is super clean and with no traces of water. Check the condition of the coolant, as this needs to be clean blue or green antifreeze and with no traces of oil. Head gaskets are not as bad as they are often rumoured to be, but if the engine is running low on water or the electric fan does not work as it should then the engine will overheat and blow the gasket. A full cylinder head overhaul will cost around £2,000, so keep the cooling system up to scratch. The radiator is mounted under the front nose cone and uses long hoses that often need renewing.
The usual clutch checks should be observed, as a new clutch is not expensive to buy but a biggish job to fit. The slave cylinder is a common failure due to the engine heat affecting the seals, but it is a simply job to fit a new cylinder. As for the gearbox, this came from a Citroen SM, which was a much more powerful car than the Esprit and it is rare to find one with major problems. Syncromeshes will eventually get tired, and the differential may whine slightly but this seems to be as bad as they get. The gear linkage will eventually start to rattle, but new bushes will only cost around £5.
Engine bay fires on old Esprits were caused by perished fuel lines and banjo bolts coming loose. Every six months, retighten the banjo bolts and inspect the fuel lines for any potential nasties. The electric fuel pump is mounted in the back, and is similar to that used on various Jaguars. Carburettors are normally Dell 'Orto DHLAs, although some cars may have Webers fitted which are just as good. Setting up the carbs does not take a dealer long, and it will run superbly when in fine fettle. Once set, they are good for thousands of miles and rarely go out of tune.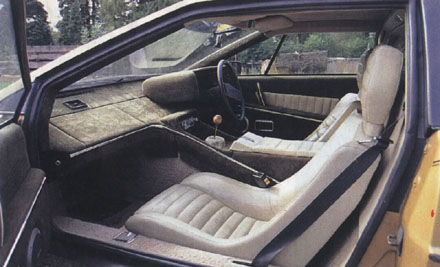 Lotus Esprit S2 Interior - Click on image to enlarge
PROBLEMS

The electrics have never been wonderful, and the early S1s were every bad. Coils failed due to engine heat as did batteries, so these were repositioned. The electric fan is controlled by a relay in the front boot in the corner by the washer bottle. The fuse that sits on top corrodes due to washer fluid being carelessly split, so this needs checking occasionally. Early cars had a habit of melting the column stalks due to excessive current being passed through the dipswitch. The headlamp wiring was revised to prevent this, and most surviving S1s have how been modified. Later S2 and S3 cars had vacuum-controlled heaters, and these are normally very reliable. Any problems are usually caused by vacuum pipe connectors splitting or coming adrift, but it's not a common fault.
Exhausts need mentioning here, because although the system itself is neither particularly expensive or difficult to fit, the cast iron manifold is. Because the engine is canted over on to its exhaust side, access to the (normally rusty) retaining nuts is poor. Cracks in the manifold are common due to rain water spraying from the wheels onto the hot manifold, and a new one costs around £250 depending on source. Paul Matty has devised a method of extracting broken head studs in situ, but it doesn't always work. Taking off the cylinder head is the only answer, and this in turn means pulling out the cylinder liners to reseal them.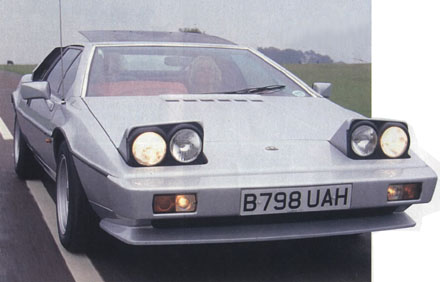 CONCLUSION
Overall, the Esprit is a superb car with levels of performance and handling that still impress in 1995, and ownership is worthwhile if approached in the right way. Buy a superbly maintained car, keep the mileage to under 6,000 a year, have it serviced every six months by a specialist and the rewards of Lotus motoring will be those Colin Chapman intended.

BUYERS CHECKLIST
• Any potential purchases must have a fully detailed service history. If it has not been serviced by a specialist, look out.
• The Wolfrace alloy wheels on the S1 were factory fitments, not add-ons.
• Pay particular attention to the engine, which is the most expensive part to repair or replace.
• A car with engine problems is worth next to nothing.
• Don't worry too much about bits to trim — most of it is still available new from Lotus.
• Check condition of wiring and functioning of electrical componants. Blue Scotchlok connectors are the work of a bodge artist.
• Cooling system very important, so check condition of hoses and antifreeze mixture.
• Replacement windscreens cost in excess of £200 and will need professional fitting.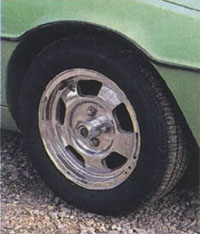 Lotus Esprit S1 Wolfrace Wheels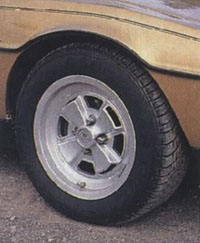 Lotus Esprit S2 Speedline Wheels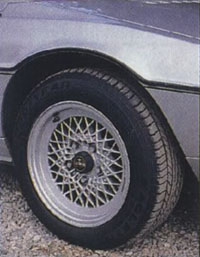 Lotus Esprit S3 Lattice BBS Wheels