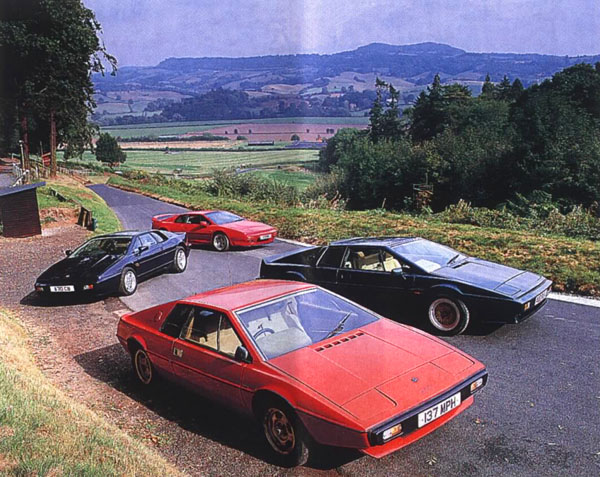 GENETIC engineering
Lotus smoothed off the Esprit's edges as it evolved, but never blunted its impact,
says Alastair Clements
Natural selection is a wonderful thing. As time goes on only the strong survive and it's why, more than 25 years after it hit the road, the Lotus Esprit still reigns supreme: A new V8 will set you back a flyer short of fifty grand, but go for a four-pot and you can pick up a legitimate Ferrari-beater for Fiat money. Some 9186 Esprits were built with the classic 16-valve slant-four from 1976-'99, and the extra good news is that, with 17 different models to choose from (plus five V8s), there is an example of this real-world supercar to suit every taste — not to mention every pocket.

Favoured shape of the '70s, the wedge was taken to its extreme with the first Esprit proto-type, Giorgetto Giugiaro's 'Silver Car', star of the Ital Design stand at the Turin Show in 1972 that followed the similar Maserati Boomerang study. Based on a Europa chassis, the Silver Car was developed by Colin Chapman's engineers at Hethel into the second mid-engined Lotus, with the engine also mounted longitudinally, keeping the main mass forward for opti-mum balance. But it was our years before project M70, spearheaded by Mike Kimber-ley and Tony Rudd, hit the road, despite looking much as the initial concept and using traditional Lotus construction methods. Under the dramatic skin there was the familiar steel backbone chassis and the glassfibre body was formed, as on the Elite and Eclat, in two halves with the join disguised by a pronounced rubbing strake along the flanks.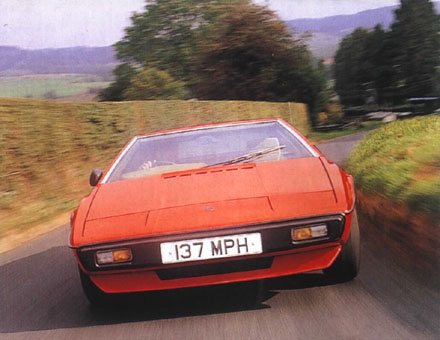 Lotus Esprit S1
The original Esprit has lost none of the drama that made it such a sensation in '76 and, even alongside its stylish successors, looks like a carelessly parked flying saucer. Hunkered over fat Wolfrace alloys, it's hard to believe a car can be so low and still accommodate human beings, yet the prototype had been even more extreme, with a near-continuous line from nose to roof.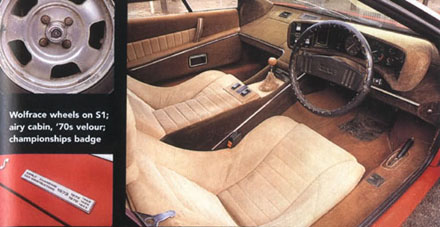 When tested with hindsight, the 51 is often criticised for performance that doesn't live up to the supercar tag, and it's true that, with just 160bhp to haul its 2000lb around, it wont set the road alight. But it's the way it delivers its performance that impresses, and the confidence it inspires in the driver. There are few cars of the Esprit's size and ability that can honestly be described as chuckable, but the S1 is one, thanks mostly to incredibly sweet steering combining superb feedback with lightness. The Esprit turns into corners with an urgency that puts the contemporary Ferrari 308 to shame. Once into a bend, so neutral is the stance and so massive the grip — despite relatively skinny tyres — that you realise you could probably have carried another 10mph. Big bumps will send a shudder through the cabin, yet poor surfaces encoun-tered mid-corner won't disturb its composure when others would be heading for the verge. Then there's the response from its carburetted 1973cc 'four' — always instant and accompanied by an urgent growl—and the snappy action of the Citroen gearbox, worked with a wooden ball. With usable cars to be had for as little as £5000, the S1 is the cheapest route into Esprit ownership. As is so often the case, first is purest and the S1 best fits the dictionary definition of the Esprit name, 'sprightliness'.
The first Esprit also offers a pleasant cabin ambience. If you can forget the earwax-brown velour, you'll find a bright, roomy interior with electric windows, reclined driving position plus lots of head and legroom with the huge binnacle ahead stocked with garish green Veglia dials. Secure in the Esprit's passenger safety cell — an innovation for the mid-'70s and surely a contributor to its easy federalisation — it's easy to drift into dreamland. Peer out of that flat screen and you can imagine fish swimming by and seaweed snagging on the wiper: suddenly you're Roger Moore, easing your supercar submarine out of the sea in the 1977 Bond flick The Spy Who Loved Me.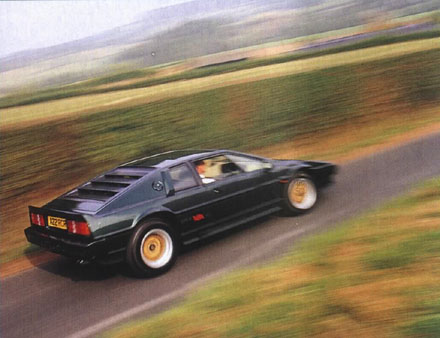 Lotus Turbo Esprit HC
If you have a penchant for playing secret agent then maybe a Turbo Esprit would fit the bill. Strap a couple of p airs of skis on the back and you could have rolled off the set of For Your Eyes Only. Launched at the Royal Albert Hall in 1980, the Turbo took the Giugiaro design on a step, adding cross-spoke alloys, body-coloured bumpers and garish decals to hint at the changes under the skin. This prime bedroom-wall fodder for junior petrolheads is now well within reach, with prices for early Turbos dipping well under the £10k mark.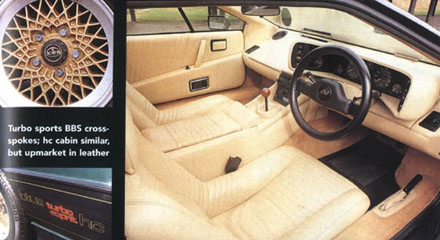 Inside, it's 11 years on and surprisingly little has changed. There's the same binnacle ahead, but topped with beautifully stitched leather rather than velour, and the seats are more sup-portive, gripping your backside better than the S1's. The optional glass roof gives a bright and cheerful ambience, but it's curiously cramped, the little wheel sitting low on your legs and your left knee hard up against the gearbox tunnel.
King of the wedge turbos has to be the last-of-the-line '87 Turbo Esprit hc, with 215bhp and a whopping 2201b ft of torque from its high compression engine (5bhp and 201b ft more than a standard Turbo). With the engine stroked out to 2174cc and following '80s fash-ion with a Garrett blower, the Esprit's supercar credentials are clear. Use the full 0.67 bar boost pressure and your hands instinctively grip the tiny wheel twice as hard as the razor-sharp nose shaves the distance to the horizon. And the sound is fantastic. Forget your howling sixes or burbling V8s, nothing prepares you for the growl from the hard-working 'four' overlaid by roaring induction as the turbo inhales: lift off and there's an addictive fluttering whoosh as the wastegate depressurises.
The Turbo's chassis was revised to give a new engine bay shape and accommodate the improved rear suspension (upper and lower links replacing tailing arms and fixed drive-shafts) and the hc's astounding grip makes it feel part of the road. Braking is exceptional and it has the same positive gearchange and sharp steering, but feels much heavier thanks to the combination of increased weight, a smaller wheel and fat tyres adorning those 15in BBS rims. It's become a physical driving experience.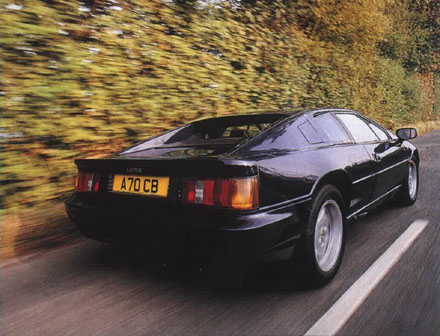 Lotus Esprit Turbo
After the drama of the Turbo Esprit, the Peter Stevens-styled Esprit Turbo is something of a disappointment. There's the same slingshot acceleration, which kicked the Lotus into the Premier League, but it hasn't really moved the game on. For a dramatic improvement, buyers a to wait until the chargecooled 264bhp SE, which took 0-60mph below 5 secs and top speed above 160mph. In some ways it's almost a retrograde step: the hefty clutch operates a less physical gearchange, but the Renault 25 transaxle's rubbery long-throw shift isn't a patch on the SM unit. The fuel injection that replaced the twin Dell'ortos in 1989 cars makes it more refined, plus improved sound deadening means that, with the windows up, it's the silent supercar: you've got to drop them to enjoy that exhaust blare and turbo whistle.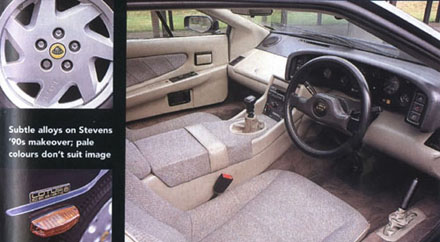 Inside, quality seems to have taken a dive. The tan leather has been replaced with tweedy cloth and anaemic pinky-grey surfaces that would look more at home in the lounge of an old folks' home. The switchgear, borrowed from here, there and everywhere, feels mismatched, though there is the odd neat touch such as an ice sensor on the dash to warn you to watch your right foot in slippery conditions.
There are few complaints from the outside: the man who went on to style the M100 Elan made an excellent job of refreshing the Esprit with an all-new look~ yet minimising costs and retaining the spirit of the original. Toyota tail-lights replace the hc's SD1 units and the elegant alloys complement the softer '90s look. The only criticism is that the new car looks a bit anonymous alongside the drama of the original.
The S4S is a different proposition altogether. Russell Carr's update adds aggression to scream its supercar status — a maze of scoops and vents to cool brakes, engine, radiator and occupants. It's outrageous from its full-width shovel front to carry-handle spoiler on the tail, with wheel-arch extensions barely accommodating vast split-rim OZ alloy wheels hiding huge brake discs and menacing black Brembo calipers.
Taller drivers will delight in the extra room of the long cabin, brought in for the '92 Esprit SE and the supportive Connolly leather seats, part of the 'Luxury' trim pack. Switchgear is improved with Vauxhall column stalks and dash-mounted aircon vents to avoid the frozen-knee syndrome of the Stevens car.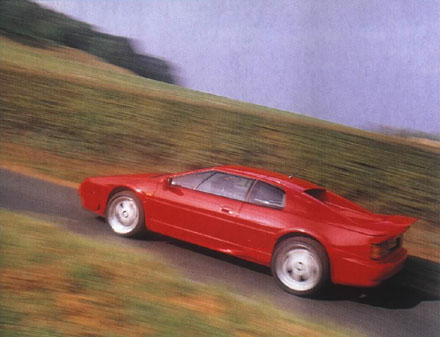 Lotus Esprit S4s
With 20 years' development behind it, the S4S is quite some machine. While the GT3 holds court as the last four-cylinder Esprit, the S4S takes the prize as the greatest — mating the drama of the limited-edition Sport 300 road-racer with the comfort of the civilised S4. First thing to strike you is the eye-bulging braking power rather than its sub-5 secs 0-60mph and near-170mph potential. It's not that it doesn't feel fast, simply that the flat torque curve —230lb ft is available from 2500rpm and the full 290lb ft just 1100rpm later — and absence of lag signify readily accessible power throughout the rev range. But, get used to the heavy race-spec clutch and super-sensitive throttle, and the S4S has enough performance and ability to blow your mind.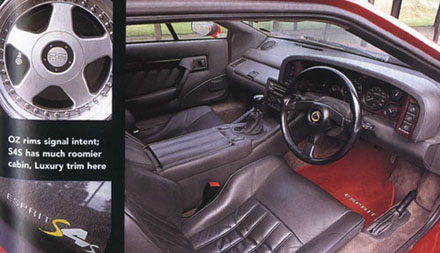 The gearbox is a joy too: hard to believe that it's based on the same Renault unit, so different is the change from the new internals and quick-shifter. The S4 was the first Esprit with power steering and it's superbly weighted, with bags of feel bringing all the confidence of the S1 back to the driver by giving the car a lighter, nimbler feel. Like the earlier cars, its natural state is completely neutral, but there is so much power that it's easy to light the rear tyres in oversteer when exiting corners. Unprovoked, the vast 245 and 285 Michelins won't be parted from the tarmac, no matter how hard you try.

There's no doubting that this quartet is from the same gene pool and, 30 years on, Esprit attraction remains strong. The genius of Lotus has been to continually refine that exceptional package to ensure the car retained its allure generation after generation. Buy well and the Esprit remains one of the few cars that can put your head in the clouds while keeping your feet firmly on the ground. The S1 offers the most fun, the most pure Lotus experience of the trio for the least money. But fragility and reliability worries are enough to deter most buyers. At the other end of the spectrum, the S4S is spectacular, but double the price of the classic Turbo. The decision is obvious — the only choice is whether to go for Stevens or Giugiaro.

WHAT GOES WRONG AND WHAT TO LOOK FOR

1 History, particularly on post-52 cars, is very important. Make sure it has been serviced regularly, preferably by a marque expert, and has had regular cambelt changes (every 24,000 miles).
2 Look for cracked exhaust manifolds, a common failure and a tricky job that can mean taking the engine out (up to 21/2 days' labour).
3 Run the car up to temperature and watch for overheating, particulary on pre-S3 cars with smaller radiators. Automatic fans can fail (look for orange warning light on dash) and a blown head gasket is a common result: make the usual checks (white smoke, white goo on filler cap). At worst, the liners can sink, signaling an engine rebuild.
4 Parts for the Citroen gearboxes on early cars are getting rare and they need to be treated with respect. Later Renault-derived 'boxes are stronger and parts plentiful.
5 Steering racks on pre-power assisted cars are weak and wear out: watch for slop and play in the steering. They can also be damaged if not fitted by experts so check even if replaced recently.
6 S1 and S2 cars use the driveshafts as top link at the rear so wear out their universal joints and wheel bearings quickly — look out for slop and noise from the back end.
7 Underbonnet heat can be a problem with S1/S2, causing fluids to boil and failure of ancillaries such as master cylinders and coils.
8 It's a supercar and so not a DIY proposition. Buying from a specialist is recommended: if buying privately get an expert to check it over; a bad one will be cripplingly expensive to put right.
ESPRIT FROM A-Z
1972 'Silver Car' concept, based on Europa chassis, displayed on Giugiario's Ital Design stand at Turin Motor Show in November.
1975 Completed car displayed at Paris Motor Show, October.
1976 Type 79 Esprit goes into production.
1978 Esprit S2 launched with Speedline alloys, new front spoiler, improved rear suspension and redesigned engine cover. Esprit JPS (above) arrives in October, limited run of 100 black and gold cars celebrating success of the Type 79 F1 car.
1980 Type 912 2.2-litre engine (with new camshafts and re-jetted twin-choke carburettors) added to create Esprit S2.2, followed by 210bhp Type 82 Turbo Esprit with aerodynamic aids and revised chassis, first 100 cars in blue, red and silver livery of F1 sponsor Essex Petroleum.
1981 Type 85 Esprit S3 arrives as cheaper base model, retaining 2.2 engine.
1982 Prototype active suspension Esprit (left).
1987 High compression 215bhp Turbo Esprit hc introduced as last Giugiaro car (second photo down). Peter Stevens-styled update follows in October as Esprit NA (normally aspirated) and Esprit Turbo.
1988 Limited run of 40 pearlescent white Esprit Turbos to mark Lotus' 40th anniversary.
1989 Esprit SE with 264bhp, fastest Lotus to date with a top speed of 163mph.
1990 Esprit enters USA SCCA Race Series, finishing second overall and spawning 20 X180R replicas for the US market.
1991 Esprit SE 'High Wing' launched at British Motor Show in October.
1992 Dramatic Esprit Sport 300 revealed at British Motor Show, developed from X180R with lightweight body, racing brakes, optional roll cage and 300bhp.
1993 Lotus enters Le Mans with two Sport 300 racers. Facelifted Esprit S4 arrives with revised bodywork, by Lotus Design under Julian Thomson, and standard power steering.
1994 Esprit S4s unveiled at the British Motor Show.
1995 Esprit Sport 300 racer enters GT2 category of the global endurance GT championship.
1996 All-new Esprit V8 arrives at the Geneva Motor Show in March, powered by twin-turbo, 32-valve, 3.5-litre V8. Esprit GT3 introduced as base model featuring a 2-litre turbo engine (third pic down).
1997 Esprit V8 range expanded with more basic (and lighter) GT and plusher SE. All cars get new interior with a smaller instrument binnacle.
1998 Most extreme Esprit arrives at Birmingham Motor Show: 175mph Sport 350 (fourth pic) with adjustable boost, carbon-fibre rear wing and magnesium alloys.
1999 Esprit GT3 phased out due to emissions regulations, marking the end of the four-cylinder.
2000 10,000th Esprit built.
2001 Final incarnation revealed in November, the 2002 Model Year Esprit. Restyled by incoming head of design Russell Carr with Elise-style rear lights and Sport 300-style rear wing (left).Bond-ed Esprits:
S1 in The Spy Who Loved Me (left), hc in For Your Eyes Only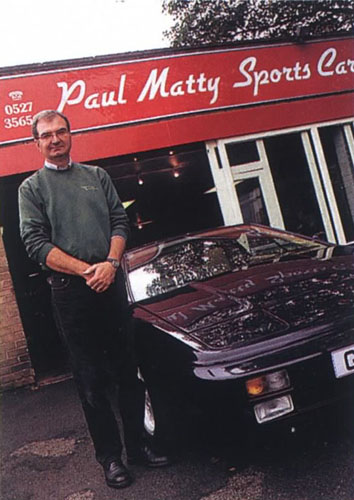 Paul Matty next to a Stevens Esprit Turbo
WHICH ONE? THE EXPERT'S CHOICE

Lotus guru Paul Matty (left, with Turbo: 01527 835656, www.paulmattysportscars.co.uk) reckons the Esprit's time has come as a classic: "It's a good time to buy as they a building the last run. If you're after a Giugiaro car then the JPS is nice and the S1 appeals as there are few left. A normally aspirated S3 can be a really nice car and an hc is rare and drives well. You can still use a later one every day: with a glassfibre body and galvanised chassis they should be around for a while yet. We have customers running Peter Stevens cars with over 100,000 miles on them and they're still great. S1s and S2s tend to be a labour of love: they are much better cars today and appeal through Iack of complexity. The S4 and S4s resolved the problems and have better gearchange, power steering and better build quality. The S4 is a landmark and not a lot of money, but the ultimate to keep will be the S4S, it's a corker with all the V8's looks and that fantastic little 300bhp four-cylinder. The V8 is blistering, but go for post-'98."


HOW MUCH WILL IT COST?

Basic 6000-mile service (no extras) — £400-500. Cambelt service (no extras) £700-1,000 (£800-1,000 for S4/S4s). The earlier the car, the less chance of a straightforward service without extra costs. Engine rebuild £4000-5000 Gearbox rebuild £1380 (Citroen/Maserati), £1170 (Renault). Front brake disc S1: £28.73 (£19.09*); HC: £128.71 (£43.89*) S4s £128.55. Rear brake disc S1: £105.75; HC: £78.82; S4s: £130.20. Headlight S1: £49.16; HC: £53.46*; S4s: £79.24. TaiI-light cluster S1: £22.38; HC: £99.88*; S4s: £119.06. Steering Rack S1: n/a; HC: £416.35 (£229.13 exch*); S4s: £1152.63. Exhaust S1: £133.84 (rear box); HC: £722.63 (System); S4S: £425.24 (silencer). Door S1: £210.10; HG: £387.99; S4s: £577.45. Front tyres S1: £76.96*; HC: £76.96*; S4s: £138.06*. Rear tyres S1: £103.11*; HC £113.98*; S4s: £226.78*.
*aftermarket rather than genuine Lotus part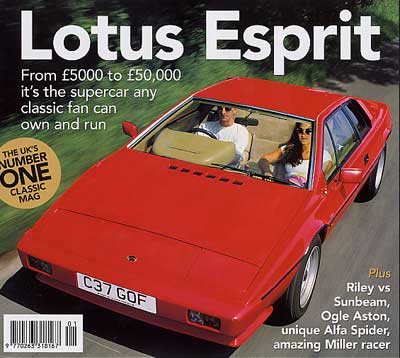 To purchase a back copy of Classic Cars magazine, please vist the website: www.classicandsportscar.com