Lotus Esprit: Buying second hand
Lotus Esprit
1980-87 Buying Guide
Autocar Magazine March 1989
Launched in 1976, the Esprit has become a modern classic and examples often appear at what seem like bargain prices. But, as Graham Robson reports in 1989, there are hidden dangers. Some cars are designed to be useful, practical and versatile; others are meant for driving. There's little doubt which category the Lotus Esprit lives in. The Esprit has all the right romantic virtues — mid-engine, two seats, blinding speed and wonderful handling, backed up by a racing heritage that only Ferrari can surpass. But to the cynic it's another infuriatingly flawed design, its spectacular looks not enough to outweigh a poor record for reliability. Although the Esprit was launched in 1975 it was not until 1980 that the turbo-engined car was introduced, coinciding with a major re-design of the chassis. For this reason our survey only covers the Esprits built since 1980. Although secondhand prices look attractive there are hidden dangers to the purchase of a used Esprit — cost of ownership and insurance being the most obvious.
THE VIEW WHEN NEW
By the time the revised chassis and suspension was phased in for the '80s, Autocar had already made its points about the cramped cabin and the idiosyncratic layout of the cars. But it didn't matter how often you had driven an Esprit, there was always something to grab the attention of the most seasoned driver.
In 1984, our testers summed up the appeal of the Lotus Esprit like this:
''It's not an easy car to get in and out of. . . it fluffed and spluttered before eventually coughing into life when asked to restart after a fast run. You need the windows open to breathe on a hot day but there isn't a car you'd rather be in. It has the eye-catching looks to boost your ego as you trickle through town traffic, and it has the power to back up those looks.''
We thought it had excellent handling and good refinement, but apart from the awkward entry/exit, and restricted rear vision, we also criticised the lack of legroom and the poor ventilation.
Nevertheless the car had a charisma which was hard to quantify and a quite blatant sex appeal. ''Acceleration from rest is breathtaking; 210bhp in a relatively light car is enough to set the tyres alight when dropping the clutch at 4800rpm.''
''Lotus engineers have waved their magic wand over the handling''. The old car had what Lotus terms a 'soft platform' and stiff tyres but the latest car has a stiffer platform and softer tyres. The overall results have elevated the responsiveness at low speeds and made it less twitchy and unstable at high speeds.
''The seat backrest is fixed and headroom at a premium. The luggage area is still a joke.''
Finally, we liked the HC Turbo very much indeed, headlining our April 1987 test 'Invigorated Esprit':
''The revised Esprit Turbo is not all about straight line acceleration. The engine still retains a tremendous amount of overall flexibility, response and refinement but the Esprit has lost none of its charm when a driver takes the car on a long cross-country trip where it is possible to maintain high speeds without really trying, thanks to the superb chassis and power output''.
''In this sort of situation you tend to forget about the poor rear three-quarter visibility and the low-slung driving position. The Lotus ranks as a remarkably satisfying device with which to cover long distances quickly.''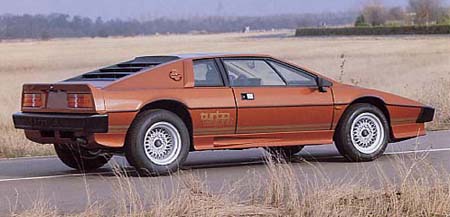 USED ESPRITS ON THE ROAD
Firstly, get used to the fact that the choice of a particular Esprit and year has always been limited. For example, production in 1983 was 327 cars, (of which 243 were Turbos). In 1985 it was 450 (323 turbos). A significant proportion of these cars were sold overseas « so it is never going to be easy to 'shop around'. Lotus has a unique dealer/service dealer structure. There are 24 authorised dealers, and six authorised service-only dealers. We visited Miles Wilkins of Charlton, near Chichester, whose company Fibreglass Services is probably one of the most active service dealers. The company also restores obsolete-style Lotuses of all types.
A brief drive in a 1983 (A-Reg) Esprit Turbo pinpointed the joys, and the potential pitfalls of this age and type of Lotus. It was as fast, as nimble and as exhilarating as any new mid-engined car, but it was clearly past its prime, and in need of money being spent. This particular car, in care-worn black paint, with tan coloured leather trim, had clocked up 38,000 miles. Excellent road manners were spoilt by tatty detail, like the torn luggage area cover behind the engine bay. Apparently it was already on its fourth or fifth owner and the current owner was still coming to terms with the amount of work needed to get it into tip-top condition.
Such a car would sell for a lot less than £10,000 (significantly less than a near-new Peugeot 2O5GTi, yet it would need several thousand more spending on it). Miles Wilkins pointed out that rear tyres on speedily-driven Esprit Turbos rarely lasted for more than 8000 miles (up to 12,000 miles for normally-aspirated types); that major services (at 24,000-mile intervals) took at least 15 hours, even without any problems, and that there could be delays in procuring some body and trim parts, even for four or five-year old cars.
Esprits are usually well cared for by their first and second owners (up to about three years old), after which the descent into scruffiness begins. Not only do owners of cars needing MoT tests discover the high cost of replacing exhaust systems, rebushing suspension items, and properly setting-up the complex suspension alignment, but they also find out that insurance costs (Group 9) can be horrifying. The quality of build of Esprits improved during the mid-'80s, particularly after the Triumph-based front suspension was replaced by Toyota-sourced items in 1985. We would certainly recommend great care in looking for Esprits which are four years old or more. Annual depreciation in value can be high. Owners will find that most of the 'established' motor trade does not want to deal in these cars. Experience shows that the normally-aspirated Esprit (which is rarer than the Turbo) is a more practical buy after its second or third birthday. Then the engine and transmission have an easier time — and the costs of regular maintenance are more favourable. Always beware of buying a car being sold at a rock-bottom price. The fact that an Esprit appears to be a bargain may mean that the owner has tried in vain to sell at a price which is closer to that normally quoted in motor trade booklets without success. Because the Esprit's body shell cannot go rusty and because the chassis frame is galvanised, it may superficially look to be in excellent condition; the sober truth is that its chassis and other running gear may be in need of much detail renovation, and component replacement.
In Wilkins's words: ''A very cheap Esprit really isn't worth rebuilding because you can never get your money back after the amount you put into it. The problem is that it is a complex car, which means that many service hours are always needed.''
Nevertheless, driving the five-year-old Esprit Turbo pinpointed the animal appeal of such cars — the great style, the way that it draws glances from other motorists and the effortless way that it can sprint away from any hold-up. Even at five-years old, the engine still felt crisp, revving freely with very little obvious turbo lag. On the other hand, the gearchange felt sloppy (fifth was sometimes difficult to find) and there was considerable steering fight under heavy braking.
It felt smaller (narrower, in particular) than it is and was easy to drive fast.
We found the driving position cramped, the ventilation poor, and the rearward vision awful. Even in broad daylight there was instrument panel reflection on the windscreen — memory tells us that this is appaling — even dangerous — at night. Maybe this is a minor irritant but for a car of this performance and intended character we didn't like to have to deal with Marina and Princess switchgear.
The Esprit is a specialised car for specialised tastes. Although secondhand prices look low, these may hide the need to spend a great deal of money. But at those prices, what other make of mid-engined car provides so much performance, style, and glamour?
NEW CAR PRICES
The original 1980 Esprit Turbo was priced at £20,950. After the normally-aspirated S3 took over from the Series 2.2 in April 1981, the S3 cost £13,513, the Turbo £16,982. The original Turbo had been decked out in Essex livery and extra equipment (Essex was Lotus's F1 sponsor at the time), so the dramatic drop in Turbo prices came about in autumn l980 when it was sold in less eccentric trim.
At the point of the minor re-style for the 1985 model year, in October 1984, the S3 cost £16,780, and the Turbo £21,270.
The two cars were redesignated 'HC' during the winter of 1986/1987. At launch in October 1986, the Turbo was listed at £24,980. From February 1987, the S3 also became 'HC', and cost £20,570.
The last of the original-shape Esprits was built in autumn 1987; the final new-car price being £20,570 and £25,980 for the Turbo.
SECONDHAND VALUES
Because the choice of UK-market Esprits is limited, there is a good deal of variation in secondhand prices in different parts of the country. Because this is a specialised market, the final negotiated value will depend on the trade-in which is involved.
What follows, therefore, is a guide.
£6000 is the bargain basement price and should buy a 1981 normally aspirated S3.
£7000-£8000 will be enough for an early Turbo but such cars usually have 70,000 or even 80,000 recorded miles and are often in need of serious restoration. £10,000 should secure a five-year old (1984) S3 or a 1983 Turbo. Cars a year younger sell for about £12,000, and those two years younger cost £4000 more.
£15,000 might just be enough for the last of the pre-style S3 models, more powerful and dubbed 'HC', which were sold at the beginning of 1988.
£19,000-£20,000 is needed to buy a 1987 D-reg Turbo, but one of the last of all (a 1988 E, and there are very few available) sells for about £23,000.
PARTS AND SERVICE
Although the original-style Esprit is no longer made, the current-model Esprit uses essentially the same chassis and running gear, all hidden by a smoother new body.
Service expertise, in any case, is guaranteed; mechanical parts are in good supply and, since Lotus has usually kept its obsolete body moulds for many years, there is not likely to be a problem in finding most body sections (or if necessary complete shells) for some years to come.
In any case, because the Esprit shells use grp composite material, their repair is within the capability of many specialist concerns around the country.
Gaining access to a Lotus dealership is not easy. There are only 24 Lotus sales outlets plus six service dealers in the whole of the UK. The majority are in England, which leaves Wales, Scotland and Northern Ireland poorly served.
A glance at the table of parts prices, too, shows that individual parts prices are high and because the Esprit is a complex car, most repair and adjustment jobs take longer than you would expect.
Nobody should buy a used Esprit — especially a so-called 'bargain-price' Esprit — without taking a sanguine view of maintenance, repair and insurance costs.
SPECIFICATION
During its seven-year life, this type of Esprit changed very little. In the UK, as in overseas markets, the turbocharged type sold at least as well as the normally aspirated type.
This is the specification of the late-model Turbo HC model:
ENGINE
Longways, mid, rear.wheel drive.
Head/block al. alloy/al. alloy.
4 cylinders in line, wet liners, 5 main bearings.
Water cooled, electric fan.
Bore 95.29mm (3.75in), stroke 76.20mm (300in).
capacIty 2174cc (132.7 cu in).
valve gear 2 ohc, 4 valves per cylinder, toothed belt camshaft drive.
compression ratio 8.0 to 1.
Breakerless ignition, Dellorto DHLA 45M carburettor.
Garrett AiResearch T3 turbocharger, boost pressure 9.5 psi.
Max power 215bhp (PS-DIN) (160kW ISO) at 6000rpm.
Max torque 220lb ft at 4250rpm.
TRANSMISSION
5-speed manual, single dry plate clutch.
9.5in dia.
Gear Ratio mph/1000rpm
Top 0.76 22.58
4th 0.97 17.69
3rd 1.32 13.00
2nd 1.94 8.84
1st 2.92 5.88
Final drive: hypoid bevel, ratio 4.325.
SUSPENSION
Front: independent, double wishbone, coil springs. telescopic dampers, anti-roll bar.
Rear: independent, upper and lower transverse link with radius arms, co-axial coil springs, telescopic dampers.
STEERING
Rack and pinion.
2.8 turns lock to lock.
BRAKES
Dual circuits, split front/rear.
Front 10.1in (258mm) dia discs.
Rear 10.8ins (275mm) dia discs. Vacuum servo.
Handbrake, side lever acting on rear discs.
WHEELS
Light aIloy, R7 and R8 rims.
Tyres, size 195/60VR15 and 235/6OVR15,
pressures F21 R25 psi (normal driving).
OTHER ENGINES
As for Esprit Turbo HC, except for: S3, normally aspirated:
compression ratIo 9.4:1. No turbocharger.
Max power 160bhp (PS-DIN) (119kW ISO) at 6500rpm.
Max torque 160lb ft at 5000rpm.
Turbo (1980 - 1987)
compression ratio: 7.5:1.
Max power 210bhp (PS-DIN) (156kW ISO) as 6500rpm.
Max torque 200lb ft at 4000rpm.
PERFORMANCE
S3 Turbo Turbo HC
Tested In Autocar: 1 Sept 1984 19/26 Dec 1984 8 Apr 1987
Top speed (mph) 130 138 141
0-60mph (sec) 7.3 6.1 5.6
Overall mpg 23.2 17.6 20.9
Unladen weight (Ib) 2489 2673 2530
1. Don't overlook condition of exhaust system; replacement will set you back well over £500.
2. Interior wear and tear can be a problem, especially if the car has had several owners.
3. Rear tyres on speedily-driven Turbos rarely last much more than 8,000 miles.
4. Gearchange should feel heavy but precise — beware of sloppiness.
5. Steering should be razor-sharp, sample car suffered fight under breaking.
6. Lotus keeps many obsolete body panels so replacement should not be a problem.
7. Rebushing suspension items and aligning suspension correctly can prove costly.
8. Chassis frame is galvanised and may look good superficially but detailed examination vital
9. Trim, like luggage covers, can be expensive to replace.
10. Paintwork more likely to be care-worn than problematic.