My name is Mark and this website is a dedicated to my 1972 Ford Mustang convertible Decor Group. I bought this car in October 2014. It is finished in Ford True Blue metallic paint and has a white interior. The Mustang has a 302 V8, a Magnaflow exhaust system, a ram air hood, Mach 1 splitter and has Magnum 500 wheels. The car was first register in the UK in June 1972 as JLD24K and has remained in the country since.
The car was restored by Simon Merisson in 2008. This is the work that was carried out to it:

1. New inner wheel house panels and quarter exterior panels fitted.
2. Door bottoms replaced. No welding required to floor.
3. Engine rebuilt with new mains/rod bearing, piston rings. Heads done by Valve Wise (machinist). New timing chain, sprockets cleaned and painted.
4. New "Extra Core" cooling radiator.
5. New half shaft bearings.
6. New rear brake drums, shoes, springs and wheel cylinders.
7. New front discs, pads and calipers.
8. New gas shock absorbers X4
9. New Fuel tank / sender / straps etc
10. New Magnaflow dual exhaust system with hangers.
11. Resprayed Ford True Blue
12. New seat covers, carpets, boot floor mat and 3 point safety belts.
13. New hood, new glass rear screen (USA 36 point) and new tonneau.
14. New Magnum 500 alloy wheels, lug nuts and centres X4
15. New door handles
16. New fuel cap.

Nov 2014
Since I have owned the car I have added widered 15x8 Magnum 500 wheels on the rear and BF Goodrich 235/60r15s tyres on the front and 255/60r15s on the rear. I also upgraded the cam covers to Scott Drake 302 "Powered by Ford" PR valve covers, with 1 breathable chrome "push on" oil cap on the right side and a PCV valve to the left side.
Feb 2015
I had a new heater core fitted to the car.
March 2015
I bought new interior deluxe door panels, as the old ones had started to crack on the arm rest.
April 2015
I had new front suspension fitted to the Mustang by American Auto Services in Hayes, as the ball joints were making a noise.
So new front suspension with top arm, lower arm, anti roll bar kit, saddles and the front sway bar kit was fitted. Also welding was need on the suspension mounts.The camber, caster and tracking was also set up.
A new flex coupling on the steering column was fitted.
While this was being done, new front discs brakes, pads, brake lines and new wheel bearings were fitted.
The garage also rebuilt carb and did the timing. Also, new gearbox mounts were fitted, the car was freshly under sealed, new seat belts and a new horn was also fitted.
May 2015
I had a Pertronix 1281 Solid-State Ignition System fitted to the distributor to improve acceleration. It's made a big improvement and now the car feels very smooth. This is a great upgrade. Also a new PCV valve and hose was fitted to the rocker cover.
June 2015
The car had a new master cylinder fitted.. The engine block was also resprayed Ford Blue.
August 2015
There was an oil leak from the rear differential and another from the transmission. So American Auto Services fitted a new oil seal to the diff and a transmission kit was also fitted. While this was being done, 2 new universal joints were fitted to the propshaft. the tracking was also corrected.
September 2015
I bought a Marti Report for the car, to find out more about it's history. The car was originally made at the Dearbourn factory in March 1972 and sold the same month in New York as a fleet car. It was originally red with a white interior, was equiped with a black power top, power steering, power front disc brakes, central interior console and had the Decor Group fitted, which included the Mach 1 grill and deluxe door linings. It's good to know that other than the paint change, the car is in original condition.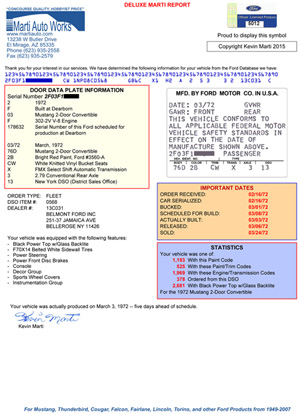 October 2015
I bought an original 1971-72 NOS Urethane bumper for the car, as the existing bumper was none original and from a 1973 Mustang. I also bought a new Mach 1 grill, new fender extensions and hood extensions and bought original and period correct Mustang Sports door mirrors, as the existing chrome ones where from an earlier Mustang. All these items were import from the States and including shipping and import duty they weren't cheap. Still it's worth it!
November 2015
Time for a respray, so I took the Mustang to Roadrash paintwork. They removed rust from the front of the bonnet and rear deck filler panel. Paul and his team fitted all the new parts, sanded back and primered the body and then resprayed the car in True Blue metallic. Paul also fitted the Deluxe door cards and door mirrors.
Please read the step by step guide to the respray here:
December 2015
I bought a new black Grant steering wheel, as the wooden wheel was looking tired and looked out of place in the car. I recon the new wheel matches the interior better.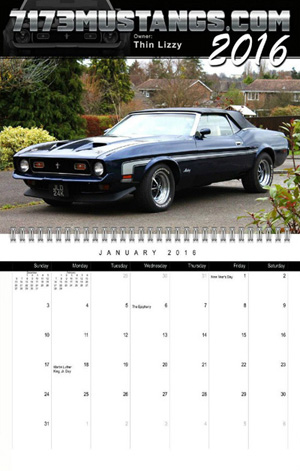 My car was featured in the 2016 7173Mustangs.com calander!
March 2016
I noticed small amounts of orange peel in the paintwork on the front and rear quarter panels of the Mustang, so Revive Ltd, bodywork specialist, flatten and burnished the lacquer and removed it. The paintwork looks more consistant and smoother now.
May 2016
I took my Mustang for it's annual service / MOT to Torando Automotive in High Wycombe. Mike gave the car a service, new oil filter, Valvoline oil, sorted out a flat spot on the accelaration which he diagnosed as a timing issue.. He did a great job on my car and it feels a load better. Big thanks to Mike!
June 2016
I had 2 new door locks fitted to the Mustang by Tornado Autos.
December 2016
Mike fitted a new alternator to the car, with all the correct wiring and regulator box and installed a new belt. He also made a spacer to make the belt run straight and inline. The car is driving and sounding great now!
March 2017
I was offered a chance to buy the car of my dreams, a 1969 Mustang Mach 1. So I bought it and unfortunately had to sell my 1972 Mustang, due to lack of space.