The Fastest car in the World
1983 - Motor magazine Road Test
What's the fastest production Supercar of 1983? We brought together the Lotus Turbo Esprit, Lamborghini Countach LP500S, Porsche 911 Turbo and Aston Martin Vantage to find out. Ferrari is not represented as the BB has gone out of production.
That Saturday morning we had arrived at North Weald Aerodrome, to the sight of a red Lamborghini Countach, numbert plate BR33, the famous blueprinted 5-litre car. The Countach had already set records at the Milbrook Proving ground and set impressive accelerating figures at MIRA and it had come to North Weald to defend it's self against the best production cars of the time. The assembled crowd seem keen for the Lamborghini to win too.
So the cars assembled on the runway, to start their timed standing kilometer. Over the next half an hours smoking tyres, soaring revs and quick shifts settled the fight. The expections were high for the Countach, however the Porsche 911 won the day, with an impressive 23.98 seconds against the Countach's 24.31 seconds. Initally the Lotus Turbo Esprit was heading for a land speed record, however it's engine expired on it's first run, in a giant plume of white smoke. So the Porsche 911 Turbo won the day and was crowned the faster production Supercar of 1983!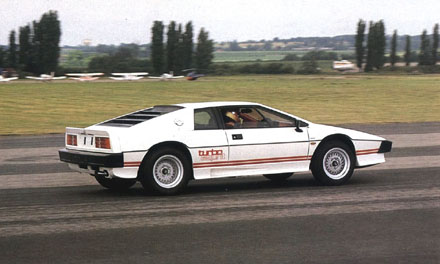 Click on image to enlarge
Lotus Esprit Turbo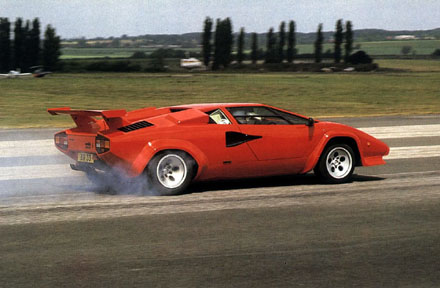 Click on image to enlarge
Lamborghini Countach LP500S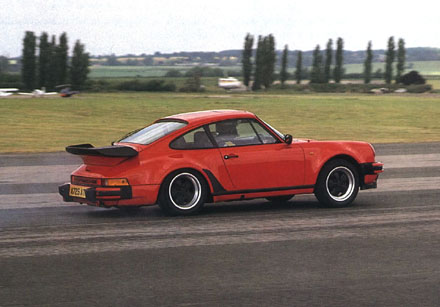 Click on image to enlarge
Porsche 911 Turbo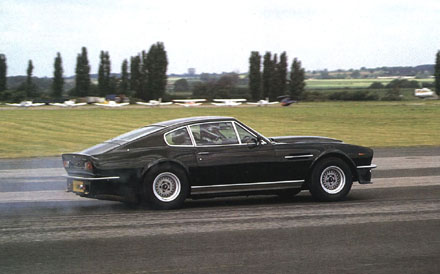 Click to enlarge
Aston Martin Vantage