The 1968 Chevrolet Astro II XP-880 was introduced at the 1968 New York Auto Show. A hint of Astro I styling flavor is seen in the frontal appearance of this running experimental car, but unlike the Astro I, Astro II had doors to access the passenger compartment.
The air-cooled, single overhead camshaft six-cylinder engine used in the Astro I was replaced with a liquid-cooled 390 horsepower MK IV big block V8 engine, with power passing through a two speed torque converter from a Pontiac Tempest transaxle. Unlike many European mid-engine vehicles, the Astro II carried its radiator at the rear; a location intended to minimize the amount of plumbing required and to keep the hot water lines from passing through the passenger compartment. This arrangement freed the front compartment for the storage of luggage. The sponson area on either side of the car behind the passenger compartment was available for extra storage on the left and a collapsible spare tire on the right. The rear section of the Astro II raised immediately aft of the passenger compartment to allow access to the sponson storage areas and to the engine and suspension. The Astro II has a wheelbase of 100 inches, overall length of 181 inches, and a height of a mere 43.7 inches. Overall width is 74 inches.
Lead engineer Zora Arkus-Duntov and GM styling chief Bill Mitchell were hoping Astro II would be the concept for the next generation Corvette, but the GM management figured the public was not ready for a mid-engine car.
The Astro II is currently part of the GM Heritage Center Collection.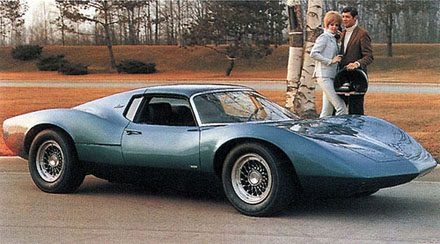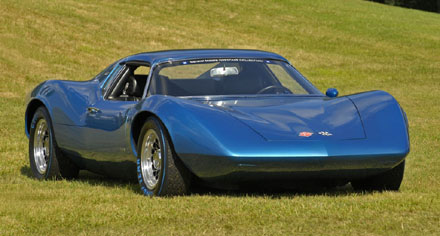 A recent picture of the XP-880 Astro II