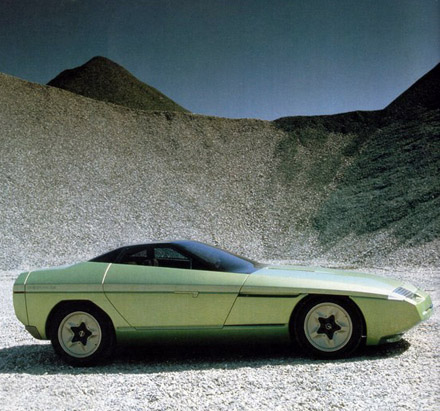 Chevrolet Ramarro

The Corvette Ramarro was a concept designed by the Italian styling house Bertone and was first shown in Los Angeles in 1984. The Ramarro (which means 'green lizard' in Italian) was based on the C4 Corvette Chassis. Although the mechanical layout was slightly altered with the radiator and air conditioning system being relocated to the rear of the car. This change allowed the front of the car to be lower and more inline with the sleek wedge-shaped profile.
One of the most dramatic design features of the 1984 Chevrolet Corvette Ramarro concept was its unusual forward-sliding doors. Inside, the Ramarro was fitted with a bench seat which draped itself over the transmission tunnel. Gear changes were not made through a conventional gear stick, instead a switch was mounted in the dash. The interior was upholstered in the same green hue as the exterior.
In 1985 Bertone's Corvette Ramarro received the Car Design Award. This was in recognition of "its bold ideas, worked into a design project which gives the Chevrolet Corvette an entirely new personality".